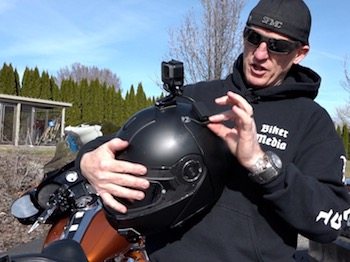 Vlog-We use a ton of different video and audio gear here at Law Abiding Biker Media, Inc. We use GoPro action cameras in different situations. I definitely use GoPro cameras when I am filming my Motovlogs on my Harley-Davidson. Make sure you check out my complete Motovlogging Tutorial Video along with the equipment I use.
I recently upgraded my GoPro Hero 4 Silver cameras to the newer GoPro Hero 5 Black cameras. Make sure to check out my video on the GoPro Hero 4 Recall-Audio Thumping, Helicopter, Popping Sounds-Know Before You Buy.
Note: The links above & below are affiliate links and help support us should you make a purchase. No additional cost to you.
For many years I used the Sony ECMCS3 Clip style Omnidirectional Stereo Microphone to gather my audio while Motovlogging and it worked great. I ran this microphone to the inside of my Schuberth Helmet. When I got my GoPro Hero 5 Black, I intended to use the same trusted lavalier microphone. Of course, the first thing is that you'll need is a 3.5mm Mic Adapter USB-C power and data extension with 90 Degree connector for the GoPro Hero 5 Black.

When I did some Motovlog testing with my new GoPro Hero 5 Black, I got back home afterward and viewed the video files. There was an annoying and random popping or clicking sound in the audio. I spent a day checking connections and camera settings to try and get rid of it. I did note that it only happened at higher speeds, such as on the freeway. I absolutely could not get rid of the popping/clicking sounds in the audio.
So, I changed to a different lavalier microphone as a last test. Yes, that was the problem I learned through my testing. I switched to my Giant Squid Audio Lab Omnidirectional Mono Lavalier Microphone. This completely got rid of all the popping and clicking sounds in the audio. The audio was no super clean and this is a great sounding mic with the GoPro Hero 5 Black.
My speculation is that the GoPro Hero 5 black is having problems processing the Sony ECMCS3 lavalier mic as it is "stereo". The Giant Squick lavalier mic is "mono", which I believe is why it works without the clicking/popping sounds. It may be an audio peaking/processing issue, as it was only happening at higher speeds. This may be because of the extra audio input from the louder motorcycle engine and higher winds inputting into the lavalier mic and into the GoPro Hero 5 Black. Again, this is only my personal analysis of the audio issues.
Suggestion:
I would also suggest you go into your audio settings on your GoPro Hero 5 and set it to manual mode. Then select "stereo only". If you leave it in audio auto mode, it is trying to switch between "wind" and "stereo only" and this will also likely cause you audio issues.
Again, I spent an entire day trying to resolve this GoPro Hero 5 audio popping/clicking issue, so I hope this video and article will help other Motovloggers out there.


Join the Free Email Club!
If you appreciate this free information make sure to join the thousands of law abiding bikers that have already joined the free Email Club! You will be notified of new useful motorcycle content and techniques as we put them out. Join the Community now!