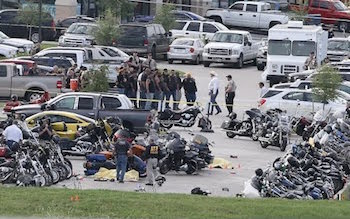 On Sunday May 17, 2015 at about 12:15 pm a criminal biker gang shooting at the Twin Peaks Restaurant in Waco, Texas left at least nine people dead, 18 hospitalized and at least 170 were arrested and charged. Exact details are lacking and a large scale police investigation into the incident is being conducted. We are reporting on information coming in from various sources.
Remember that 99% of all bikers/motorcyclists are good hardworking people with a passion for riding. The bikers involved here are thugs and make up less than 1% of the motorcycling population out on the road. They call themselves 1%ers and bear patches to identify them as such.
Police had been concerned with the bikers' presence at Twin Peaks for several months. The restaurant hosted special events for bikers and unfortunately allowed criminal biker gangs to also attend. The biker gang members who began beating, stabbing and shooting each other knew the police were patrolling outside.
"There were at least three rival gang groups here this morning for whatever reason. As they were here, we had officers on scene. We expected issues," said Waco Police Sgt. W. Patrick Swanton. He later said there were at least five gangs.
Swanton expressed anger at Twin Peaks, which he claims had been less than helpful in dealing with gangs in the past. "Are we frustrated? Sure. Because we feel like there may have been more that could have been done by a business to prevent this," he said.
The United Clubs of Waco billed Sunday's event as the Texas Region 1 Confederation of Clubs and Independents meeting. The Confederation of Clubs (COC) has no real authority of any kind and is only recognized by some, like the clubs involved in this incident.
An altercation apparently started in a bathroom. Shots were fired inside the eatery and a brawl spilled onto the patio area, before scores of criminal bikers flooded the parking lot in broad daylight. Some criminal bikers were beaten with brass knuckles, clubs and chains, while others were stabbed or shot, Swanton said. There was clearly no concern for innocent lives and bystanders by these criminal bikers.
Police responded within 30 to 45 seconds because of their proximity and the criminal bikers turned their weapons on law enforcement, he said. "Our officers took fire and responded appropriately, returning fire," the sergeant said. Swanton called it "the most violent and gruesome scene that I have dealt with" in three and a half decades of law enforcement.
Before the restaurant and surrounding parking lots became a bloody battleground, the Waco Police Department had 18 officers on the scene, including an assistant chief and tactical officers, along with four officers with the Texas Department of Public Safety, Swanton said. No officers were hurt, Swanton said, praising their response.
As police rounded up suspects and paramedics tended to the injured, investigators found eight bodies; three in the parking lot behind Twin Peaks, four near the front of the restaurant and one that had been dragged behind a nearby establishment, Swanton said. More than 100 weapons were confiscated as well, he said.
According to a law enforcement source, preliminary information indicates that four of the bikers killed were killed by police gunfire. The investigation continues and the ballistics will be analyzed to determine for certain who was responsible for each shooting.
Suspects from five different biker gangs remained locked up in the McLellan County Jail on Monday facing charges of engaging in organized crime, Swanton said. McLennan County Sheriff Parnell McNamara said that bond was being set at $1 million for each of the 170 people in custody.
Photos from the scene showed bikers wearing the insignias of the Cossacks, Bandidos, and Scimitars among others. It is no secret that these three are all well know organized outlaw criminal motorcycle gangs. The Bandidos and Cossacks have some sort of long ongoing childish dispute going on over who can wear a bottom rocker patch on the back of their vests saying, "Texas". And the Scimitars are supporters of the Cossacks, because they probably can't make their own decisions. The Cossacks are aligned with the Hell's Angels, who are rivals of the Bandidos.
The bottom rocker patch criminal biker gangs wear on the back of their vest claims territory, such as the State of Texas in this case. They believe only one criminal biker gang can wear a specific territorial patch and that the club bearing it owns the illegal drug & gun trade in that geographical area. For another criminal biker gang, such as the Cossacks in this case, to bear the "Texas" bottom rocker patch, they would need permission from the Bandidos. That is just a quick explanation of the sad pitiful world they believe in and in no way am I promoting it.
Employees & patrons at Twin Peaks crawled into a freezer and shut the door for safety during the melee. Criminal biker gangs are nothing more than terrorists. There was clearly no concern for innocent lives or bystanders by these criminal bikers as they fired their guns.
Names of bikers killed in Waco, TX released:
Nine motorcycle gang members were killed and 18 others were injured in the ensuing melee. According to the preliminary autopsy results, all nine men killed in the violence died from gunshot wounds either to the head, neck, or torso, and each death is listed as a homicide.
They have been identified as:
Richard Matthew Jordan II, 31
Jesus Delgado Rodriguez, 65
Charles Wayne Russell, 46
Daniel Raymond Boyett, 44
Wayne Lee Campbell, 43
Jacob Lee Rhyne, 39
Richard Vincent Kirschner, Jr., 47
Manuel Issac Rodriguez, 40
Matthew Mark Smith, 27
According to drivers license records, four of the men are from North Texas. Records for Wayne Lee Campbell trace back to addresses in Fort Worth and Arlington; Richard Vincent Kirschner Jr. to Wylie; Manuel Issac Rodriguez to Allen; and Matthew Mark Smith to Keller.
We will be following this story as things develop and you can expect a Law Abiding Biker Podcast episode at some point, so stay tuned.