Harley Davidson has equipped all 2014 and later touring models with the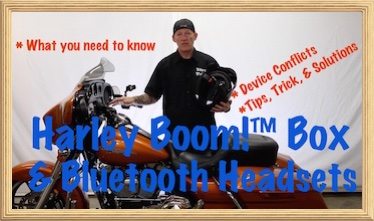 Boom!™ Box Infotainment System. Frustrating to many bikers/motorcyclists,  is the fact that there is absolutely no bluetooth headset communication system capable of pairing with the system. There is a wired only solution at this time and further information is available at the following link:
In this article and video I go over utilizing a completely separate in-helmet style bluetooth capable communication & speaker system to listen to music, make phone calls, and talk to other bikers in your group.
Sometimes in town with my visor up a bit on my full face modular helmet or when wearing my half helmet, I listen to my music on my Boom!™ Box system speakers. I play the music on my Boom Box via a bluetooth connection on my smartphone, which is mounted securely in my Biker Gripper Cell Phone & GPS Mount. I added a Hogtunes Amp and replaced the stock speakers with Hogtunes speakers and it is much louder. Check out our Hogtunes Amp and Speaker Install Video.
When I am in the saddle on very long days, such as some recent 8-9 hr ride days to Sturgis, I wear my [Continue reading]