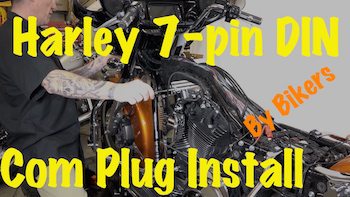 Video-In this free video we show you in great detail how to install a 7-pin DIN audio & communications kit or plug on your Harley-Davidson touring model. Models such as the Harley Ultra Classic or Ultra Limited already come set up with this 7-pin plug. However, models such as Harley Street Glides and Road Glides don't come stock with it.
The biggest benefit to installing the Harley 7-pin DIN is so that you can then use a custom Biker Boom Headset in conjunction with your stereo system on 98 to current Harley-Davidson motorcycles! Yes, the Biker Boom Headset is fully functional with the Boom Box Infotainment system on 2014 and newer Harley touring models.
Harley Biker Boom Headset Videos of Interest:
Give voice commands directly to the Boom Box such as directions, tune to radio station, make a phone call etc!  And if you and your passenger are equipped with a Harley Biker Boom Headset you can communicate with your passenger! The Biker Boom Headset is available exclusively in the Law Abiding Biker™ Store!
Note: (Add-on 7-pin DIN kits)(Street Glide, Road Glide Etc)
If your Harley touring model, such as a Street Glide, Road Glide etc, doesn't come stock with the 7-pin DIN plug, you can easily purchase and install an add-on kit. Then you can utilize the Biker Boom Headset!
Guide Only: Make certain you get the right kit for your year/model
2014 & Newer 7-pin DIN Kit:
2008-2013 7-pin DIN Kit: 
1998-2008 NO KIT: 
There is no available kit. Only those Harley touring models that came factory with the 7-pin DIN.