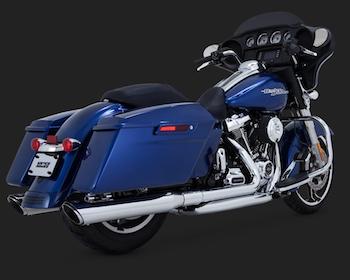 We show you how to install Vance & Hines Dresser Dual head pipes and Titan 450 OS Slip-on mufflers on a Harley-Davidson touring with a Milwaukee-Eight 107 & 114 motor. We do a sound comparison at the end between stock Harley Exhaust vs. the new V&H exhaust. We also do a full review of these Vance & Hines pipes and headers.
This header system gets rid of your catalytic converter (cat), opening up the flow, increasing power & sound, & greatly reducing heat on the rider. Cats create a large amount of heat.
The Vance & Hines Dresser Dual head pipes are two separate pipes all the way from the heads to the rear. There is no chamber, so the back pressure is just not there. It's well known that true duals are not the number one choice for optimal performance anyway. They look great and sound good though. And most riders would not feel a noticeable loss of performance with this set up. These pipes only come with 18mm O2 port that can be reduced to 12mm with the provided hardware, which is great because you can use your stock Harley O2 sensors.
After install, we noticed a definite increase in performance over the stock Harley pipes and mufflers. We noticed a great improvement in sound and the reduction of heat from having no cats.
Remapping your motorcycle's Electronic Fuel Injection (EFI) is necessary when you change the flow of exhaust or air intake on your Harley, such as we did in these exhaust installs. Make it easy and get a V&H Fuelpak 3 Electronic Fuel Injection Tuner from our store. We highly recommend this EFI tuner and we use it heavily here at Law Abiding Biker™ Media.
Podcast/Article of Interest: (EFI TUNERS)
Video of Interest (FUELPAK 3 EFI TUNER)
Video of Interest (REMOVE EXHAUST PACKING)


Join the Free Email Club!
If you appreciate this free information make sure to join the thousands of law abiding bikers that have already joined the free Email Club! You will be notified of new useful motorcycle content and techniques as we put them out. Join the Community now!