Podcast: Play in new window | Download | Embed
Subscribe: Apple Podcasts | RSS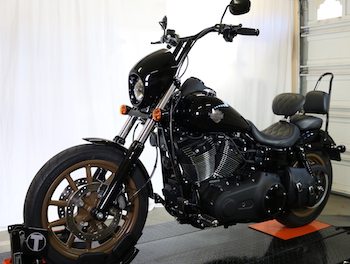 Podcast-In this episode we talk all about the 2016 Harley-Davidson Dyna Low Rider S we have in the Law Abiding Biker™ garage for a while. We have done quite a few projects on it and of course, we filmed them for you. Check out our video titled, Install Forward Controls on a Harley Davidson Softail or Dyna-Guide & Instructions.
We recently put new 12″ West Coast MX T-Bars on this bike and they look awesome! Check out our video titled, Install Handlebars Harley Dyna, Softail, Sportster | Extend Wires & Cables.
The 2016 Dyna Low Rider S (special) was the first for this model. Harley is making some "special" models. Although they are not a "CVO" model, they are somewhat of a "one off" bike and they have some special things about them. Harley seems to be doing this with other models too.
Our 2016 Dyna Low Rider S came stock with the Screamin' Eagle Twin Cam 110 engine (1,801 cc) on this small frame bike. And she really rips! It also came stock with cruise control and throttle by wire. It has a cable clutch and not hydraulic clutch, which we would have preferred.  It also comes with upgraded suspension, the six-speed transmission, ABS brakes, and dual front disc brakes.
We put Vance & Hines Short Shots Staggered exhaust and we tuned the electronic fuel injection (EFI) using a Vance and Hines Fuel Pak 3. The bike came with a stage one Screamin Eagle air intake. I am really digging riding this bike now that we have it all setup!
New Free Video Announced:
EMAIL 1:
Video Referenced: Access, View & Clear Harley Diagnostic Trouble Codes (DTC's)-For All Years/Models
Your email regarding the security code for Harley's…….. I read your information and there is something that you should know. I'm a retired Police Officer from York Region and have had bikes for 40 odd years. I have about 14 now.

In August of this year I purchased a new Harley Ultra Limited Low. When I picked up
my new bike, they showed my how the security system works and taking their advise, I changed the code. Safe and secure!

In October I had my bike in the garage and attempted to start it. It would not start and a member came up to trailer it to the dealership. This gentleman made several attempts to start the bike without any luck. He asked me for my security code and I told him I had forgotten it. He then told me that he could override my code and start the bike.

I was curious and again asked him how he could override my security code. He told me that the dealership people have the knowledge to do this override! Interesting. So basically dealership employees could steal my bike! Turns out there was a module in the starter circuit that burnt out. They fixed it the next day..good service!
EMAIL 2:
From: Ron Trusty of Wilmington, OH
What tools would you recommend taking for my 2012 Harley Street Gilde on a long ride out west? 4,000 miles…
MY RESPONSE: (affiliate links)
Sponsor-Patch Addict
Use Coupon Code:

LAB15

Get

15% Off

Free Shipping on orders over $25
Sponsor-Ciro 3D
Innovative products for Harley-Davidson
Affordable chrome, lighting, and comfort products
Ciro 3D has a passion for design and innovation
New Patrons:
Jason Betts of Big Fork, MT

Bob Siemion of Philadelphia, PENNSYLVANIA

Mark Jariash of Beaumont, CA


TECH SPEC
PRICE $16,699
ENGINE 1801cc, air-cooled 45° V-twin
TRANSMISSION/FINAL DRIVE 6-speed/belt
CLAIMED HORSEPOWER n/a
CLAIMED TORQUE 115 lb.-ft. @ 3500 rpm
FRAME Tubular-steel tubular frame
FRONT SUSPENSION H-D Premium Ride 49mm fork
REAR SUSPENSION H-D Premium Ride emulsion shocks
FRONT BRAKE Hayes four-piston caliper, 300mm disc
REAR BRAKE Hayes two-piston caliper, 292mm disc
RAKE/TRAIL 30.5º/5.1 in.
WHEELBASE 64.2 in.
SEAT HEIGHT 26.6 in.
FUEL CAPACITY 4.7 gal.
CLAIMED WEIGHT 674 lb. wet