Podcast: Play in new window | Download | Embed
Subscribe: Apple Podcasts | RSS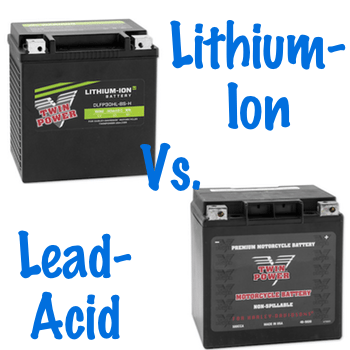 Every biker will eventually have to replace the battery on your motorcycle.  Many bikers wonder if they should get an old lead-acid or replace it with a newer lithium-ion motorcycle battery.  There are many things to consider before making this decision and we break it down for you in this podcast episode.
Good quality lithium-ion motorcycle batteries are lighter, smaller, charge faster, hold their charge longer, last longer overall, have better warranties, & often have more cold cranking amps. They are however more expensive than a lead-acid, but the cost may be well worth it. On average a lithium-ion battery costs 30% more than a lead-acid. You'll also need a lithium-ion specific battery tender.

The first possible drawback to a lithium-ion is that if you let it fall to below 11 volts by accidentally leaving your headlight as an example, you may permanently damage the battery. Whereas, a lead-acid in good shape could be charged and likely recover. I drained my lithium-ion motorcycle battery to less than 1 volt and it recovered just fine, but it was rather new.
The second drawback, not really in my opinion, to a lithium-ion motorcycle battery, is that if you leave your motorcycle out in temperatures below freezing for an extended period of time, you'll have to "wake" the battery to get it cycling. This is easily done by turning your headlight on for a short period or bumping the starter a few times. Once awake, you lithium-ion goes to work fast and gives you those cold cranking amps.

These are just some of the things you need to know about lithium-ion vs. lead-acid motorcycle batteries……..
LEARN MORE-SEE OUR DETAILED VIDEO, ARTICLE, & RECOMMENDED BATTERIES:
New Free Video:
Sponsor-Ciro 3D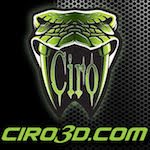 Innovative products for Harley-Davidson
Affordable chrome, lighting, and comfort products
Ciro 3D has a passion for design and innovation
Sponsor-RickRak

The Ultimate Motorcycle Luggage Rack Solution
Forget those messy straps and bungee cords
Go strapless with a RickRak quick attach luggage system & quality bag
New Patrons:
John Post of Flower Mound, Texas

Jay Looney of Athens, Alabama

Richard Mihelitch of Milton Freewater, Oregon

Stephen Cox of Redmond, WA

Rob Roberts of Narre Warren South, Victoria, Australia

Todd Myers of Kennewick, WA

Jack Marvin of Dothan, Alabama

J Kaminski of Flowery Branch, Georgia

Dale Cunningham of Midvale, Utah


Leonard Conway of Midlothian, Virginia (Also a Patron)

Brian Cann of Saugus, Massachusetts

Martin Gavrila of Hollywood, Florida
Join the Free Email Club!
If you appreciate this free information make sure to join the thousands of law abiding bikers that have already joined the free Email Club! You will be notified of new useful motorcycle content and techniques as we put them out. Join the Community now!