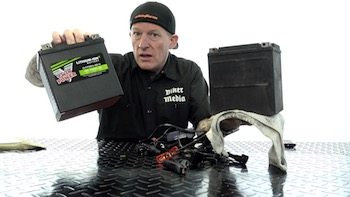 Should you choose old technology and choose a heavy lead-acid motorcycle battery? Or choose the newer lighter lithium-ion battery technology? There are many benefits of a lithium-ion battery over a traditional lead-acid.
Good quality lithium-ion batteries are lighter, smaller, charge faster, hold their charge longer, last longer overall, have better warranties, & often have more cold cranking amps. They are however more expensive than a lead-acid, but the cost may be well worth it. On average a lithium-ion battery costs 30% more than a lead-acid.
Note: By clicking on any pictures or links in this article & purchasing we get a small commission. No additional cost to you. Help support us please if you appreciate what we're doing to help bikers.
Lithium-ion batteries are generally much smaller than lead-acid. For this reason, make certain upon purchase that it will fit your motorcycle. Many sellers of lithium-ion batteries will put the battery in a "stock case" for your brand/model motorcycle. That means that they'll make it the same size as your stock lead-acid battery so it will fit perfectly in the battery compartment of your Harley-Davidson as an example. If you choose to buy the smaller size lithium-ion it may bounce around in your large battery compartment. Many come with shims so you can try to wedge the battery in to keep it from moving around. My recommendation is to get a lithium-ion battery with the correct case size for your application.
When purchasing a lithium-ion, be aware of the terminal placement such as side or top to make sure it will work with your application. Again, this is why I bought a direct replacement lithium-ion made for my Harley Street Glide that has everything the same as my lead-acid.
Lithium-ion batteries often have more cold cranking amps (CCA) and that means more powerful starts. As an example, the Twin Power Lithium Ion Battery -DLFP30HL-BS-H I bought has 625 CCA, whereas a typical lead-acid for a Harley will only have 400-500 CCA.
In this video, I showed a Twin Power Lithium Ion Battery -DLFP30HL-BS-H. I have been using it in my Harley-Davidson touring for a while now and love it!
The first possible drawback to a lithium-ion is that if you let it fall to below 11 volts by accidentally leaving your headlight as an example, you may permanently damage the battery. Whereas, a lead-acid in good shape could be charged and likely recover.
The second drawback, not really in my opinion, to a lithium-ion motorcycle battery, is that if you leave your motorcycle out in temperatures below freezing for an extended period of time, you'll have to "wake" the battery to get it cycling. This is easily done by turning your headlight on for a short period or bumping the starter a few times. Once awake, you lithium-ion goes to work fast and gives you those cold cranking amps.
I tested my lithium-ion battery by placing it in my freezer for a bit over two hours at 12 degrees Fahrenheit. I then tested it on my Harley and it fired right up and the battery never went to sleep. That tells me that you'd need to have your bike in the below-freezing temps for some time before it would go to sleep. Again, easily overcome by just bumping your starter or turning your headlight on to wake it.
Check out other lithium-ion batteries for Harley-Davidson (click on pictures):
An upside is that lithium-ion batteries don't really need to be on a battery tender when storing or parking your motorcycle for longer periods of time like a lead-acid as they only lose about 10% of their charge a year while sitting. Whereas, a lead-acid battery loses 1% of its charge per day. Just remove the negative battery terminal on your lithium-ion battery when storing your motorcycle & you're good to go. Then, just charge the battery up and top it off before riding again. In contrast, you should keep your lead-acid on a battery tender while you park and/or store your motorcycle for any length of time to greatly increase its lifespan & so it doesn't go dead.
Make sure you use an appropriate battery tender when charging/tending your lithium-ion battery. These charges/tenders are a bit different than lead-acid chargers. A lithium-ion battery tender charges your battery to between 13-14 volts. A lead-acid battery tender charges the battery to about 12.8 volts. So, using the wrong charger/tender will either under or overcharge your particular motorcycle battery. I bought a Battery Tender Junior 12Volt 800mAh AGM, flooded, GEL, or lithium (LiFePO4) 022-0199-DL-WH dual that works for either a lithium-ion or lead-acid with the push of a button.
If purchasing any motorcycle battery online, make sure to check the warranty, return policies, and procedures and know who you are buying from. You need to know this information should your battery go bad under warranty. How do you get it replaced and who pays any shipping charges? Or, do you need to go straight to the battery manufacturer?
Understand that lithium-ion batteries have a much longer life than lead-acid. I have a friend that is going on 8 years now with his. Make sure if you trade or sell your motorcycle that you leave with your beloved lithium-ion battery.
I really hope this article and video provide you with the information you need to decide what battery you want to install on your motorcycle. Me personally, I'll be using lithium-ion from now on.
Join the Free Email Club!
If you appreciate this free information make sure to join the thousands of law abiding bikers that have already joined the free Email Club! You will be notified of new useful motorcycle content and techniques as we put them out. Join the Community now!