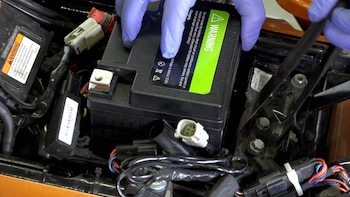 See Video Below
Eventually, your Harley battery will need to be replaced. We show you how to install a new battery in your Harley-Davidson motorcycle. We'll show you the easiest ways to do this and which things to unplug. Whether you're replacing your battery with a lead-acid or lithium-ion, we will show you how. Don't waste your money paying a dealership to do this easy job. You can do it right in your very own shop or garage.
See This Video Before You Purchase Your Next Motorcycle Battery!
Note: By clicking on any pictures or links in this article & purchasing we get a small commission. No additional cost to you. Help support us please if you appreciate what we're doing to help bikers.
Check out lithium-ion batteries for Harley-Davidson (click on pictures):
Check out Battery Tenders
Make sure you use an appropriate battery tender when charging/tending your lithium-ion battery. These charges/tenders are a bit different than lead-acid chargers. A lithium-ion battery tender charges your battery to between 13-14 volts. A lead-acid battery tender charges the battery to about 12.8 volts. So, using the wrong charger/tender will either under or overcharge your particular motorcycle battery. I bought a Battery Tender Junior 12Volt 800mAh AGM, flooded, GEL, or lithium (LiFePO4) 022-0199-DL-WH dual that works for either a lithium-ion or lead-acid with the push of a button. Another great lithium-ion battery charger is the BikeMaster Lithium-Ion Battery Charger/Maintainer. Shop other motorcycle battery tenders here.
Join the Free Email Club!
If you appreciate this free information make sure to join the thousands of law abiding bikers that have already joined the free Email Club! You will be notified of new useful motorcycle content and techniques as we put them out. Join the Community now!