Podcast: Play in new window | Download | Embed
Subscribe: Apple Podcasts | RSS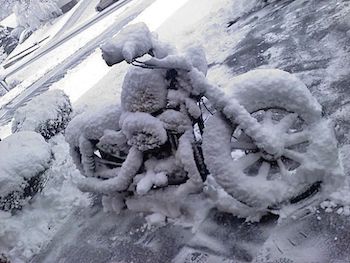 There are many misconceptions about what to do when winterizing your motorcycle and we are going to clear it up in this podcast episode & article. It's actually a very easy process and easy to do. (Some links/pictures are affiliate links. No additional cost to you, but if you click through and make a purchase we get a small commission. It helps support us)
Battery
When winterizing your motorcycle, you don't need to remove the battery if you don't want to as it's just extra work. Unless there is no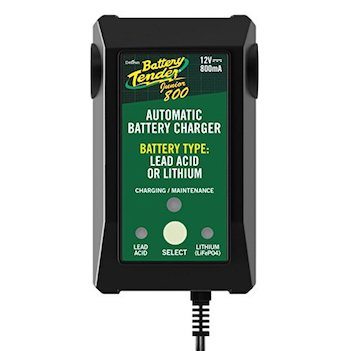 power where you store your motorcycle. Whether the battery is on or off the bike, make sure you plug the battery into a reliable "float" charger/maintainer/tender that reads feedback voltage from the battery and tops it off as needed. Don't use a "trickle" charger that constantly feeds a small amount of current to the battery nonstop as that will overcharge the battery.
Don't start your engine up every now and then to "warm it up" after winterizing your motorcycle
This is a very common mistake and we already released podcast episode #130 going over the reasons not to do this in detail. A cold start is hard on the engine. Understand, that if you aren't running the engine under load up to full operating temperature, moisture condenses out of the air into places water doesn't belong.

Unless you are planning on going for an actual decent ride to burn off moisture and charge that battery up, then you are better off just not starting it at all.
Further, when it's cold outside the gasoline is less likely to evaporate. Your motorcycle purposely runs "rich" and compensates for this initially by adding more gasoline to the air-vapor mixture. That's the problem, you're actually putting extra fuel into the combustion chamber to make it burn and some of it can get onto the cylinder walls.
Gasoline is a great solvent and it can actually wash the oil off the cylinder walls if you run your motor in those cold idle conditions for an extended period of time. Over time, that can have a detrimental effect on the lubrication and life of things like piston rings and cylinder liners. This can have a serious effect on the overall operating life of your motorcycle engine.
Don't drain your fuel tank
Leave the fuel tank full when winterizing your motorcycle and add a quality fuel stabilizer additive. If you empty the tank it's vulnerable to corrosion and dried out seals.
For carbureted bikes, be sure to turn the petcock off and drain the carb bowls.
Check your antifreeze on water-cooled bikes
Just check the anti-freeze and make sure that it is not all water or that it has too high of a watery consistency. You can use a simple affordable Anti-Freeze Hydrometer to test what temps your anti-freeze is good for.
Use a good quality tarp or cover when winterizing your motorcycle.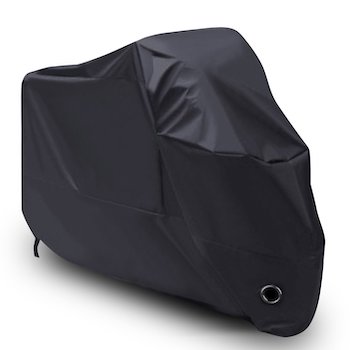 If storing your motorcycle indoors, then a good quality dust cover will do. If outside, then a completely waterproof and breathable motorcycle cover is recommended. Make sure the outdoor cover fits well and will not blow around in the wind and rub the paint on your bike. The cover needs to breathe to allow any moisture inside the cover to escape.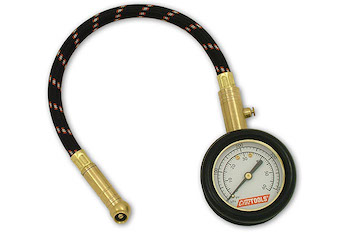 Tire pressure
Before putting the motorcycle away, check the tires for proper inflation with a quality tire pressure gauge. Don't worry about flat spots forming on your tires from sitting. Rumors such as these are from the days of bias-ply car tires, which could form a flat spot overnight. Modern motorcycle tires will not form flat spots like that.
Oil Change
If your regular oil change is due at the time you are winterizing your motorcycle then certainly change your oil & filter out before storing your motorcycle. But if it's not due, then just store it with the same oil in it. Certainly, change your oil if are going to store the motorcycle for a very long period of time & not just for the winter months.
Clean your bike
Make sure you clean and detail your bike before you store it. You don't want all those bugs, road grime, and grit working away at your paint. Plus, it will be super hard to get all that grime off in the spring after storing your bike.

Give your motorcycle a good wash and wax before storage. Below are the cleaners we use exclusively on our bikes here eat Law Abiding Biker™ Media. They have been tried and tested by us for many years.
NEW TUTORIAL VIDEO RELEASED:
Sponsor-Ciro 3D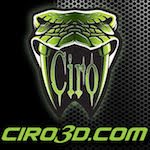 Innovative products for Harley-Davidson & Goldwing
Affordable chrome, lighting, and comfort products
Ciro 3D has a passion for design and innovation
Sponsor-RickRak

The Ultimate Motorcycle Luggage Rack Solution
Forget those messy straps and bungee cords
Go strapless with a RickRak quick attach luggage system & quality bag
New Patrons:
Karen Cavin of El Paso, Texas

Jim Patty of Marina, CA

Joel Botello of Sugar Land, Texas

Jeremy Pruitt of Carmen, Oklahoma

Nicholas Styant-Browne of Kirkland, WA

John Eversole of Comanche, Oklahoma

Bob Huneke of Wildwood, Missouri

Tad Nicol of Campbell River, British Columbia, Canada

Thomas Bennis of Middleport, PA