Podcast: Play in new window | Download | Embed
Subscribe: Apple Podcasts | RSS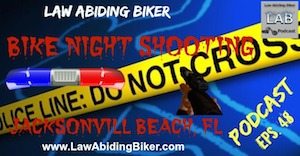 PODCAST-We start out by diving into the reported fatal shooting that occurred on June 26, 2014 around 8:00 PM outside Nippers Bar Grille in Jacksonville Beach, Florida. The Jacksonville Beach Police Department has identified the deceased as 40-year-old Zachariah Tipton.
There is very little preliminary information at this point & it is being investigated thoroughly. Unlike other less than credible motorcycle related sources that have reported on the matter, we here at Law Abiding Biker Podcast & Media hold ourselves to a higher standard. We are different and try to be as fair and balanced as we possibly can. Unlike other sources, we are not taking sides when there is very little information to do so at this point. It would be plain ignorance to do so. Regardless of what motorcycle club the deceased and shooter may have been involved with, we will wait and follow up on this story as real information comes forth.
Here are the basics at this point until further information comes out:
It does appear that it was "bike night" at Nippers Bar Grille. Per sources, there were members of multiple motorcycle clubs. A member of the Iron Order Motorcycle Club and a member of the Black Pistons Motorcycle Club had some sort of exchange. At some point, the Iron Order MC member shot and killed the Black Pistons MC member. The Jacksonville Beach Police Department is investigating the incident and there were apparently hundreds of others present at the event that need to be interviewed.
Per the Iron Order MC website they are a lawful motorcycle club. They specifically state that they are not 1% ers. I do have some personal experience with the Iron Order MC and they have always been friendly and respectful at motorcycle events. They do have law enforcement members, but the club is not exclusive and has members from many walks of life.
Here is a quote taken directly from the Iron Order MC website. "If you are law abiding, desire strong brotherhood and riding a motorcycle is not a solo event, maybe we are for you."
The Black Pistons make no attempt to hide the fact that they are a support (puppet) club to the Outlaws Motorcycle Club. The Outlaws MC makes no attempt to hide the fact that they are an outlaw motorcycle gang (OMG) and claim 1%. Their website looks like most other boring OMG websites with very little actual information. I have no personal experience with any Black Pistons MC club members.
Even with this information we are fair and balanced and will wait until the facts of this incident emerge! Then we can start forming an educated opinion.

So, the rest is completely speculation at this point. Beware of what sources you choose on reporting truths about this incident. If a source is already judging one side or the other without much information then that should probably be a red flag that they have an agenda. No agenda here at Law Abiding Biker Podcast & Media, but only the truth backed by information will come when it is available, so stay tuned.
Main Topic
Our main topic of this episode comes from an email sent in by loyal listener and supporter James Dimitrious of California.
James writes, "As you guys get ready for example your upcoming California trip, any particular safety or bike things to bring, things to have done to your bikes before leaving, etc. Probably already have this on a piece of paper for a future podcast, but who knows!"
Things the Sworn Few Law Enforcement Motorcycle Club does prior to taking a long distance motorcycle trip and the things we bring along:
Secretary LawDog (LD) of the Sworn Few MC Mother Chapter updates his emergency contact list for each patched member going and also for any prospective members or hang arounds. This just makes sense in the unfortunate event a wife or family member needs to be contacted. Great idea LD!!
We do an oil/lube/filter on all our bikes if they are within 2,000 miles of needing a service. Of course we do our own maintenance and adjustments. Check out the very popular Law Abiding Biker Media free video we put out on how you can do your own maintenance on your Harley Davidson. LAB Media also has another very popular for sale video that instructs you in even more detail on how to maintain and safety check your Harley Davidson.
We adjust our clutch levers and the clutch internally if necessary. We put out a free video on how to adjust your clutch cable and a free video on how to adjust your Harley Davidson clutch internally.
We inspect our tires for cuts, nails, screws etc and replace if necessary. We replace our tires if they are close to only having 2/32″ tread depth left or if the wear bars are showing. Check out our free video on how to remove the rear wheel from your Harley Davidson. Also check out our free video on how to remove your front wheel from your Harley Davidson. Don't forget to check the safety nuts and pins on your wheels and make sure they are in place.
We inspect all fluid levels: (replenish if necessary and check for any leaks)

Engine oil
Transmission oil
Primary oil
Brake reservoir
Clutch reservoir (if you have a hydraulic clutch)

Inspect your brakes front/back and replace if low (we will be making a video on this very soon, so sign up for the free email club to make sure you are notified of this an other great videos. No spam guarantee here, but just great information from time to time.
We inspect all lights:

Brake lights
Signal lights
Head lights (low/high beam)
I carry a couple extra bulbs along on the trip

Make sure those that have GPS systems are current and have the proper Harley Ride Planner maps uploaded and synced. Here are three very popular videos on Harley Davidson Boom Box & GPS, Harley Boom Box software update, and Harley Davidson Ride Planner.
Passenger backrest is on (if needed to secure your travel bag)
Rider backrest is on if you have one
Luggage rack is on if you have one
Make sure you have extra bungee cords
A Sworn Few MC custom water bottle filled with a fine whiskey (LOL)
Cigars of choice
Travel bag (T-bag type) or trunk if you have one
Helmet and maybe extra
Riding glasses
Good rain gear

Coat
Pants
Glove covers
Boot covers
Head sock
Face mask

Of course you everyday clothes
Toiletries bag
Riding boots
Pair of relaxed shoes for around town at destinations
Sunblock
Chapstick
Ibuprofen/Tylenol
Chaps
Sweatshirt for layering
Heated jacket liner, pants, gloves etc. Here is a free blog on First Gear heated gear
Pair of cold weather gloves if you don't have heated grips.
Riding coat (leather or other materials) Here is a free review video on the Harley Davidson 360 Illumination Jacket that I wear.
Check to see if at some point along the way there is a drop off laundry service, so you can pack less clothes
Cash/cards/wallet
Little tool kit and rag
Hotel reservation numbers etc.
Smartphone/charger
Small first aid kit
Any special EpiPens for riders with severe allergies, such as a bee sting. Know where your brother has it and how to use it before you leave.
Camera
Firearm/extra mags (if it is legal for you to carry across state lines)(for us LEO's it is). Make sure you know the laws in the states you are visiting.
Of course this is not an exhaustive list, but if you had at least these things you would have a pleasant trip.
Keep the rubber side down and the shiny side up!