Start saving money now. Easily learn how to perform routine maintenance, oil change, and safety inspection on your Harley Davidson.

Milwaukee-Eight motor (107 & 114 ci)

Do it in your garage or on your patio right on the kickstand! No specialty tools or jacks required.
A Video by Bikers for Bikers!
Information About our Harley Maintenance Video
In this tutorial video, we teach you how to perform routine maintenance, oil change, and safety inspection on your Harley Davidson equipped with a Milwaukee-Eight 107 or 114 ci motor. It doesn't matter which model Milwaukee-Eight Harley you have. What we teach you is universal across the entire Milwaukee-Eight line. You can do this right in your very own shop or garage and no specialty tools are required.
Note: You can get our Harley PRE-Milwaukee-Eight Oil Change, Service, & Safety Inspection Video Here!
What years & makes will this video work for exactly?
The video is good for Harley-Davidson Milwaukee-Eight 107 (1,750cc) and 114 (1,870cc) CI motors & CVO models. The Milwaukee-Eight motors, oil plugs, air filters, oil filters, frames, brakes, belts, levers, and other components are basically the same for the all these models:
All Harley models with the Milwaukee-Eight 107 & 114 ci motor.
Single & Twin-Cooled Milwaukee-Eight 107 & 114 ci motors
CVO Models with the 107 & 114 ci motor
Servicing your Harley Davidson yourself DOES NOT void your warranty in any way and that is a FACT! We have spoken directly to many Harley Davidson Service Managers and Mechanics over the years and nothing has changed.There are a couple of items you need to retain to keep your warranty in tact and this is discussed within. You are protected by the Magnuson-Moss Warranty Act.
Much effort & detail went into the filming & producing this video to give you the best possible views. You simply will not find a more detailed instructional video out there on this topic. We also give you some extra info and talk about other Harley related mechanical things in this video.
Harley Davidson Dealerships charge $300 plus for this basic service and easy safety inspection every 5,000 miles. To do this service yourself, all you need is this video, synthetic oil, and oil filter that costs between $100-$125. Then all you need is 1 hour of your time and you are done!
Now, imagine all the time and money you will save by not taking your motorcycle to the dealership every 5,000 miles and paying $300 plus for something you can easily do for much cheaper at your home.
For the low price of this video, you will be saving several thousands of dollars over the life of your Harley! Then you can put that money back into something worthwhile, like parts to dress up your Harley-right?-LOL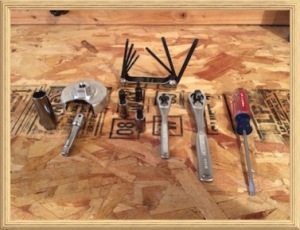 You don't need any real fancy tools, jack, or motorcycle lift for this. You can do this service and safety inspection right on the kickstand. We have done it this way for many years and serviced many Harley's. Here is a list of the simple tools you will need:
* Small Standard Screwdriver
* 3/8″ Ratchet
* 1/4″ Ratchet
* 3″ Extension for 3/8″ Ratchet
* 5/8″ Standard Socket
* 3/8″ Hex Socket for 3/8″ Ratchet (or just a Hex Drive Tool)
* 5/16″ Hex Socket for 3/8″ Ratchet (or just a Hex Drive Tool)
* Torx Drive Tool w/ size T-27 (or a Torx Socket for a 1/4″ Ratchet)
* Multi type Torx Tool w/ size T-27
* Oil Filter Removal Wrench w/ Cutout-Here is the part description and Harley part number (End Cap Oil Filter Wrench-94863-10)($10.95)
* Oil Drain Pan
* Funnel
Further, we talk about specification and capacities and break it down for you and for real life applications. We keep it simple, as it does not need to be difficult. This is really an easy thing to do! You will be kicking yourself for wasting money and wondering why you never did it yourself before.
There are no surprises in this video and we are completely confident you will be able to service your Harley Davidson completely on you own after viewing this video. We truly hope it helps many Harley-Davidson owners save a ton of money and discover the joys of wrenching on their own bike!
So what are you waiting for? Get the video NOW and stop wasting your hard earned money! Tell other riders and friends about this video.
If you're new to Law Abiding Biker™ Media, please check out our YouTube Channel where we have tons of completely free videos to help the biker community. Our mission is to help as many bikers as we possibly can worldwide!
Keep the rubber side down and the shiny side up! Ride