Podcast: Play in new window | Download | Embed
Subscribe: Apple Podcasts | RSS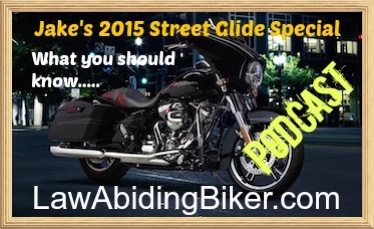 Podcast-Jake here at Law Abiding Biker™ Media purchased a brand new Harley Davidson Street Glide Special (FLHXS) in early April of 2015 from a local Harley Davidson dealership. He traded in his 2012 Road King to make this purchase.
I wanted to put this podcast & article out for our entire Law Abiding Biker Community or anyone else who may be considering purchasing this motorcycle.
Harley Davidson Boom!™ Box Infotainment System!
3 Must See videos on everything you need to know on how to operate the new Boom!™ Box Infotainment System. Don't be frustrated, I will show you how.
He ended purchasing the vivid black colored model, which costs less than a model with other custom colors.
The 2015 Street Glide Special sports the air cooled 103" cu in V-Twin High Output Motor (1690 cc). There is also an integrated oil cooler. This 103 cu in V-Twin now comes stock with the 255 cam kit already installed. The 255 cam offers substantial increase in low-end torque. He has has been very impressed with the performance of this motor and it is a runner for sure. It is awesome to have that extra power at take off and when passing for certain. This bike really gets up and goes and feels extremely smooth.
The 2015 Street Glide Special comes stock with a hydraulic clutch, 6 speed Cruise Drive transmission, of course the 6 gallon fuel tank, and the bike weighs in at 818 lbs. The motor has Electronic Sequential Port Fuel Injection (ESPFI). The engine is said to get around 42 miles per gallon combined city/highway and we have found that to be accurate.
The 2015 Street Glide Special sports beautiful stock black Enforcer Cast Aluminum wheels on front and back. The front wheel is 19 inches and has a Dunlop D408F 130/60B19 tire, while the rear wheel is 16 inches and has a Dunlop D407T 180/65B16. The tires handle well and you can drag floorboards all day long around corners!
The gauges on the dash now run along the top, making room for the 6" touch screen Boom Box Infotainment System below. Check out our #1 Ranked Boom Box Tutorial Video!. The system is pretty awesome, but there is a rather steep learning curve. We teach you everything you  need to know on how to operate the new system and how to keep your software up to date, which is critical.
The speedometer and tachometer are 10% larger and have 68% wider numbers. It has a 28% larger fuel and volt gauge with 30% wider numbers. The display features odometer, trip A, trip B, range to empty, and gear indicator. All the gauges are beautifully backlit.
On the left handlebar controls on top is a trigger switch (odometer, trip A, trip B, and range to empty). Also on the left handlebar controls is a switch to operate voice commands via a headset to the Boom Box Infotainment System. The cruise control is now solely operated by a joystick and has been moved to the left handlebar controls. Now you can rock the throttle back with your right hand and set the cruise with your left. This was a very nice change.
On the right handlebar controls is an information switch to display ambient temperature, oil pressure and whether your engine idle temperature management system (EITMS) is enabled. This is all displayed on the large 6" Boom Box Infotainment System Screen.
These are all new ergonomic hand controls and include joysticks on each side to control all the functions of the Boom Box Infotainment System and cruise control. I can tell you that everything to operate the electronics is right at your fingertips and feels great!
The inside of the fairing is beautiful on the 2014 Street Glide Special and is painted in an eye catching gloss black finish. This really completes the inside of fairing and makes it stand out.
Of course the new front fairing vent or "wind tunnel" is a huge new addition to the 2014 Street Glide Special. You can close the vent by a large button on the upper left inside of the fairing. This new vent is placed there to reduce head buffeting, which it does. Essentially the air rushes through the fairing vent and shoots a wall of air straight up in front of you in order to slow the oncoming air. This is my assessment of how it operates.
I have tested this vent "wind tunnel" in all different conditions and at many different speeds. My personal estimation is that it reduces head buffering by about 25-30%. The only time I can see that I would close the vent is during extremely heavy rains or hail. I have opened it and closed on very cold mornings and nights and it does not seem to matter. The only downfall to the new fairing vent is that you would not want to install inside fairing storage pouches on your dash, as it would block the wind tunnel, but I believe the trade off is well worth it.
The FLHXS comes standard with dual front brakes, ABS, and the new linked braking system they call the Reflex Braking System. Essentially in an emergency stop, not only do the ABS brakes kick in, but if you apply too much front or rear brakes, the sensors within recognize this problem and even out the braking pressures. This all results in very quick braking in an emergency.
New Patrons:
Carl Lingelbach of Appolo, PA
Robert Henze of Walden NY

The beautiful thing is that the linked braking system does not kick in until 20-25 mph. This is super important for motorcycle law enforcement officers, who do a lot of low speed aggressive maneuvers and have to use the rear brake a lot while doing so. On other brands of bikes that had similar linked type brakes, they activated even at very low speeds, making the slow speed maneuvers much more difficult for the police motorcycle officer. This of course goes for anyone who practices or knows how to perform aggressive slow speed maneuvers. Harley Davidson really thought this one out!
A few other things worth mentioning are the restyled hard saddle bags with a one touch design latch, dual halogen headlight, 49 mm telescopic front forks, stiffer triple clamps, larger steering bearings, low profile front fender, Jukebox media compartment with a USB connection and one touch access door, and of course the Harley Davidson Factory Security System with hands free security fob.
All these additions and changes have made an awesome riding 2014 Harley Davidson Street Glide Special. The bike is tight, smooth, fast, and powerful. It corners like a dream and it is even hard to tell how fast you are going unless looking at the speedometer. That is how smooth this bike runs. The new Boom Box Infotainment System with integrated GPS is just what I was calling for. The audio system sounds great and can be heard fine, even at freeway speeds.
The only thing we did to the bike for now is install an aftermarket EFI tuner and replaced the stock mufflers with Vance and Hines Dresser Twin Slash Rounds slip on mufflers. We have a free video on removing/installing aftermarket exhaust. We also have a free tutorial video on installing a Stage One Air Intake and installing a Dyno Jet Power Commander V EFI tuner, which we will be doing eventually.
Just when you think there is nothing more Harley Davidson can do to make their bikes even better, they knock it out of the park! Well done Harley Davidson and you should be very proud of this bike!
David Curtis of Butte Meadows, CA

Donald Lannon of Wailuku, HI

Curt Wagner of Friday Harbor, WA
-Ride safe and keep the rubber side down