Podcast: Play in new window | Download | Embed
Subscribe: Apple Podcasts | RSS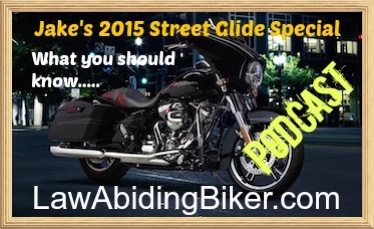 Podcast-Jake here at Law Abiding Biker™ Media purchased a brand new Harley Davidson Street Glide Special (FLHXS) in early April of 2015 from a local Harley Davidson dealership. He traded in his 2012 Road King to make this purchase.
I wanted to put this podcast & article out for our entire Law Abiding Biker Community or anyone else who may be considering purchasing this motorcycle.
Harley Davidson Boom!™ Box Infotainment System!
3 Must See videos on everything you need to know on how to operate the new Boom!™ Box Infotainment System. Don't be frustrated, I will show you how.
He ended purchasing the vivid black colored model, which costs less than a model with other custom colors.
The 2015 Street Glide Special sports the air cooled 103" cu in V-Twin High Output Motor (1690 cc). There is also an integrated oil cooler. This 103 cu in V-Twin now comes stock with the 255 cam kit already installed. The 255 cam offers substantial increase in low-end torque. He has has been very impressed with the [Read more…]