Podcast: Play in new window | Download | Embed
Subscribe: Apple Podcasts | RSS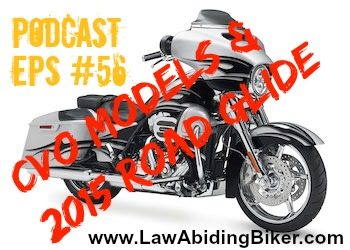 PODCAST-We get into depth about the new 2015 Harley-Davdison Road Glide and Road Glide Special and the differences. I released a free video on the YouTube Channel and it is a look at this model after Harley-Davidson took 2014 off from producing this bike. You should check the 2015 Road Glide video and blog out for further details and listen in on this episode. Many also wonder what the differences between the Harley Street Glide and the Road Glide are, so we go over that too.
Want to call us and get your topic on the show or leave us feedback?
Harley-Davidson produces special CVO (custom vehicle operations) models each year. This year they chose the Street Glide, Limited, Road Glide Ultra, and the Softail Deluxe. Of course the CVO models cost much more, but they have a bigger motor and other custom items. Is it worth it to buy a CVO model? Listen in as we discuss these CVO models.
Facebook forcing law abiding biker motorcycle clubs to switch from a personal page to a "page":
When you start a motorcycle club we suggest [Read more…]