Podcast: Play in new window | Download | Embed
Subscribe: Apple Podcasts | RSS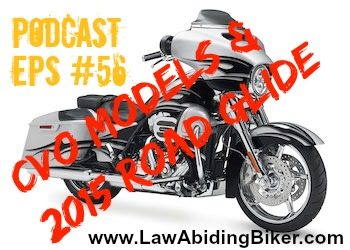 PODCAST-We get into depth about the new 2015 Harley-Davdison Road Glide and Road Glide Special and the differences. I released a free video on the YouTube Channel and it is a look at this model after Harley-Davidson took 2014 off from producing this bike. You should check the 2015 Road Glide video and blog out for further details and listen in on this episode. Many also wonder what the differences between the Harley Street Glide and the Road Glide are, so we go over that too.
Want to call us and get your topic on the show or leave us feedback?
Harley-Davidson produces special CVO (custom vehicle operations) models each year. This year they chose the Street Glide, Limited, Road Glide Ultra, and the Softail Deluxe. Of course the CVO models cost much more, but they have a bigger motor and other custom items. Is it worth it to buy a CVO model? Listen in as we discuss these CVO models.
Facebook forcing law abiding biker motorcycle clubs to switch from a personal page to a "page":
When you start a motorcycle club we suggest you set up a Facebook page instead of a personal profile. The reason is that after you get over a certain amount of friends, Facebook will force you into becoming a page and you will loose all your history and pictures. This recently happened to the Sworn Few Law Enforcement Motorcycle Club. When you have a Facebook page not as many people will see your posts and this is due to Facebook's algorithm. They want you to pay money to "boost" your posts, so more people see it. This is fine for a business, but most of us are non-profit organizations. Clubs are not generally going to pay, so other bikers can see their posts, so this is a bit ridiculous.
Need a motorcycle cell phone or GPS mounting solution Bikaholics?

That's right, Law Abiding Biker Media put our logo on these mounts & we personally use them on our motorcycles!

The sexiest, lightest, and strongest mounts available period.
Good prices and fast shipping from our store?
Check out our COMPLETE REVIEW
iTunes Reviews:
gwterry1 (US) 5 stars/ August 27, 2014
This is a GREAT podcast. I cannot possibly list everything I have learned listening to these guys sitting around BS ing.
Monkeygirl6575 (US) 5 stars Subject: Great Podcast/ August 16, 2014
Stumbled upon the Law Abiding Biker youtube videos recently and as fellow LEO and new Harley owner found the videos great and informative. Answered a lot of questions/ideas I had about my 2014 Street Glide. Once I found that you guys had a Podcast (which I have never listened to Podcasts or even had the app installed) I started listening and have enjoyed every show. Great to hear the info and advice you guys pass on. Keep up the good work fellas!
MRT1954 (US) 5 stars Subject: Great Podcast/ August 5, 2014
Lots of great, no BS, information.
Facebook page comment:
One of the best web sites I have ever used. If you ow a Harley you need to check this guys out.
Emails covered:
Jon Philibrick
Great job on both vids. I am impressed at the thoroughness of your product, especially noting the time you put into the learning process of the BB functions. You answered my questions on the Navigation areas and so much more on the rest of the different areas. You really overloaded me but at the same time, I now know where to go to find specific answers on the many different areas. And your presentation of the material was down to earth, easy to understand and most of all, functional. Now I have a "go to" reference for my unanswered questions which HD left me and others in the dark. My next purchase will be the BB software video since I anticipate it will be in greater depth than my experience of downloading HD software. So thanks again for your videos and time spent in researching the HD dark holes and producing such a fine product.
Thanks so much Jon for the kind words and feedback. It is so nice to hear that all the hard work and going the extra mile is appreciated. I am always concerned that I am creating content that is useful and well presented & as you see trying to make it better. If I feel it is outdated it drives me nuts until I overhaul everything and get it out. I don't want anyone to ever feel like they did not get what they paid for. I'm a bit obsessive….LOL
Mark Rosselet of Hilliard, Ohio
Is there any certain products that you like to use when cleaning and polishing both the painted and chromed surfaces of the bike. I have tried several but have not found one that I can truly say is the best that I have used. Like to keep the bike looking great so looking for a good solution.
I have used much stuff over the years. However, I came across Bug Slide several years ago that that is all I use. It absolutely works on everything. Chrome, Paint, Wheels etc…… Great for a dry cleaning solution. For a wet clean solution I just use regular car soap. The link below is to where I purchase my Bug Slide from (Dakota-Shields). I don't get paid to send you there. So, If you could please take a moment and drop the owner, Dick Peters, a line for me via email or phone I would appreciate it. Tell him that Ryan Urlacher at the Law Abiding Biker Podcast sent you his way and that he should be sponsoring us. That would be great bro.
Daniel Gilbert of Quebec, Canada
I'm trying to find information on front rotor replacement for my 2011 flhx. I've seen your video on how to remove the front wheel, but is there anything specific I should know when replacing rotors such as torque specification?
There are torque specs you will want to follow for the rotor. Each year is a bit different, so a quick caller to your local dealer and they will tell you. Unless you have a service manual (that is where your dealer will look up the specs).