Podcast: Play in new window | Download | Embed
Subscribe: Apple Podcasts | Android | RSS
In this episode we dive into everything surrounding the Harley Davidson V-Rod Muscle and Night Rod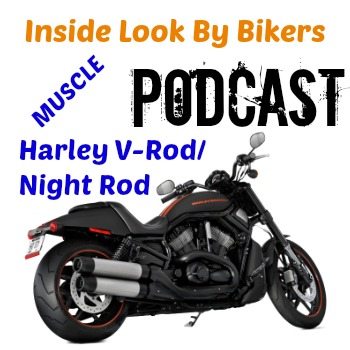 Special. We have Bid Daddy Kane on hand, who has personally owned one of these bad ass bikes. He has intimate knowledge of it and even tricked it out. He has since sold that bike, but misses it in many ways.
Although the V-Rod seemingly has less interest than many other Harley models, it certainly has earned a place among many bikers. There are some pros and cons to the V-Rod and much of it has to do with personal taste and style. We reveal why you might be interested in this bike and why you may not be.
We dive into the specs of the V-Rod and its history dating back to 2001. It has some amazing history and was produced to compete with Japanese & American muscle bikes. The V-Rod uses a Revolution engine, which was developed jointly with Porsche. This was the first time Harley used overhead cams and liquid cooling.
What looks like the gas tank on a Harley V-Rod is actually the air cleaner cover. The actual gas tank is relocated to underneath the seat. Harley Davidson builds the V-Rod as a platform for drag-racing competition machines and is loosely based on the VR-1000 Superbike. The V-Rod uses an internally counterbalanced 60 degree V-twin engine.
You really must listen in as we go in-depth in this episode. If you've every wanted to know more about the Harley V-Rod then take a listen!
Useful Links:
Perry Churchill of Califormia left the message
New Patrons:
Yannick Lamontagne of Gatineau, Quebec
Gary Christian of NB (New Bruswick), Canada
Philip Sxajna of Tampa, FL

Mitchell Chapman of Houston, TX
David Duffey of Jackson, TN
Ronald Sheely of Winchester, KY