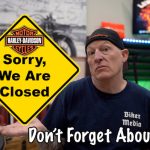 Matthew Levatich, the CEO of Harley-Davidson since 2015, stepped down recently. As he left, Levatich said, "I am proud of what we have achieved during my time as CEO, in one of the most challenging periods in our history." (see video below)
It's well known that Harley has been struggling for some time and sales have been declining steadily year to year. There's just not a big demand for the bigger expensive touring bikes that make up the core of its model line. The company's loyal base of older customers, who drove a Harley revival during the 1980s and 1990s, is aging and purchasing fewer new motorcycles.
Because the company needed to do something quickly, they selected Levatich as CEO back in 2015 to try to save the company. Levatich joined the company back in 1994 and served as a chief operating officer from 2009 through 2015 prior to becoming CEO. So, he had a good background and knowledge within the company.
What former Harley CEO Levatich did in 5 years
Levatich authorized dozens of new models for both the U.S. and foreign markets. Harley certainly sees growth opportunities in the foreign markets and has clearly been targeting them. But that's been tough because of competition from existing brands that are solid in those markets.

Levatich expanded the output of motorcycles overseas, looking for more customers, especially in Asia. But, the smaller motorcycles aimed at those markets are less expensive than the bigger touring Harley models that they rely on in the U.S. and that has hurt the company's overall sales revenue.
He also tried to get the company into different markets such as the Adventure Riding with the Pan America, which is supposed to be released in 2020. And they created the Street Fighter to get into the sports bike market, but there's no timeline on the release of that bike.
And of course, Harley created their first-ever electric motorcycle named "LiveWire." However, it had some major issues after launch and a recall on it's charging system that didn't help its reputation.
Additionally, Levatich attempted to offset declining sales with cost reductions. The company closed its Kansas City, Mo., assembly plant in 2019, Conducted several rounds of layoffs, and voluntary buyouts for employees. The company also shifted some of its productions overseas as well to avoid tarriff's. And they took some consumer and political heat for doing such.
Levatich had a mission to attract new riders with their ridership classes, which are basically a driver's ed class for new riders. These classes were not necessarily new, as these classes pre-dated Levatich, but the company just renewed its focus on promoting the classes.
Measuring progress toward the ridership goal created tension between Harley managers and its dealers and investors and this festered over time. Dealerships complained the learn-to-ride classes were expensive and didn't bring enough new motorcycle buyers.
Tensions between dealerships and Levatich rose even more as he brought many new models, engines and made other attempts to revive sales, but they all failed. Harley also created a fleet of smaller, cheaper bikes such as the street series to attract new riders.
However, none of these things seem to have really moved the needle in attracting the younger generation.
Who is filling Levatich's position?
Harley's board said that director Jochen Zeitz would serve as acting CEO and board chairman as it looks for a new permanent CEO. Zeitz's background is in sporting goods and lifestyle products. He served as CEO of Puma SE from 1993 to 2011, where he led a turnaround of the company when it was near bankruptcy.
Areas where I believe Harley failed under CEO Levatich
First, customers are tired of paying the Harley tax on anything with a Harley logo as it's marked up excessively. I believe buyers are smarter these days and are not buying more expensive Harley stamped items such as coats, pants, shirts, gloves, helmets etc. They are buying aftermarket merchandise that is cheaper and better quality. I'm certain this has cut into Harley's overall profits.

Second, the long time Boom Box Infotainment System debacle and all its problems that continue to this day and the lack of support customers have received has really hurt the company's reputation. This has been going on since 2014 now. Harley's silence about these well-known Boom Box issues has hurt them badly.
Third, the implementation of the new overly strict warranty voiding issues on the newer Milwaukee-Eight models. The company has forced the dealerships to void long time loyal customer's warranties for trivial items.
The biggest failure is their long time failure in proper up to date marketing. In the company's passion to attract new younger riders, they've left their current core customers (the ones with the money) behind. Many, once brand-loyal customers, are leaving because of it.
Instead of connecting with current core customers, Harley went after Hollywood actors and extreme sports athletes that don't even ride or live the biker lifestyle. That sort of outdated marketing continues to hurt Harley.
Harley has forgotten how they originally built their brand. It was more than just about a motorcycle, it was about a lifestyle and everything that surrounded it. It seems Harley has just abandoned its original brand values. It's now only about trying to attract a younger generation of riders. Yes, that's important, but they must not forget about their current customers.
Unlike other companies and industries, the Harley marketing team has not yet awoken to new-age techniques and practices where they could intimately connect with their core customers and even that younger generation they're after. Harley has failed to leverage current online influencer platforms to connect. These influencer platforms include YouTube, podcasts, online communities, and social media groups just to name a few.
These well-established platforms are where their largest customer base is hanging out and it's a very targeted audience. They could easily connect with these very large online communities, but they seem to be completely blind to it and are falling further behind every day. The days of Harley remaining silent and not talking directly to their customers are over and they better get on board quickly.
Harley owners and riders could care less about over-privileged Hollywood actors or athletes riding or being given free Harley's. This does not speak to current Harley owners or future owners in this day and age. Those are old outdated marketing techniques for the motorcycle industry.
Harley's current core customer and new younger future customers are watching more online videos than watching traditional TV and they are not listening to traditional radio that is dying. They are not reading or buying outdated magazines and print media. Instead, they are hanging out in large targeted online communities and Harley has done nothing to get involved in these places.
Most importantly, Harley needs to keep their current customers happy, because after all, they are the ones that will be introducing that younger generation of riders they're targeting, to motorcycling and Harley ownership in the future.
Join the Free Email Club!
If you appreciate this free information make sure to join the thousands of law abiding bikers that have already joined the free Email Club! You will be notified of new useful motorcycle content and techniques as we put them out. Join the Community now!