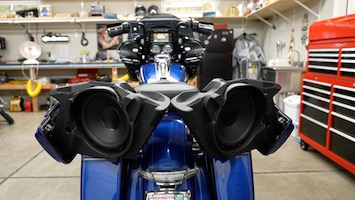 In this video, I discuss and review the complete Harley-Davidson Audio Powered by Rockford Fosgate system we install on a 2015 Harley-Davidson Road Glide Special. The system consisted of two amplifiers, fairing speakers, saddlebag lid speakers, and two 10-inch subwoofers. I discuss the pros and potential cons of this system so you can decide if it, or part of it, is for you. (See video below)
The first thing to note is we tested the system with a decibel meter and it hit at and above the level of other premium systems we installed in the past. Keep in mind that motorcycle audio differs greatly from car audio. In a car, you're in an enclosed space with the speakers. On a motorcycle, the audio is going out to your environment, and at higher speeds, you're leaving the sound of rear speakers behind you. With that said, the saddlebag lid speakers are designed so the speakers are pointed at the rider which may help a bit at highway speeds.

So, let's talk specifically about the subwoofers. They are very loud when stopped or at low speed in town. I was honestly supposed how much sound/bass they produced considering the small enclosures and limited air movement. Harley-Davidson did an excellent job of designing the woofers. They slide in and out of your saddlebag easily so you can have storage room when needed.
The system is controlled through an App that allows you to adjust the sound in much finer detail than the Boom Box head unit alone. You can adjust the volume of the subwoofers independently from the other speakers. There are several preset EQ curves and the availability to create a custom EQ curve. We found the Highway EQ curve helped to hear the sound at freeway speeds because it focuses on the high and mid-range sounds. The Boom Box GT units require a flash from your local Harley-Davidson dealer. The GTS units however do not require a flash.

Our final thoughts are this system is well-built with quality components. It is as loud or louder than the other premium systems we've installed. The installation is essentially plug-and-play, and easy to install with our installation video. You won't be disappointed if you get it.
PROGRESSIVE RIDING GEAR WE WERE WEARING IN THIS VIDEO: (affiliate links)
*No additional cost to you, but if you make a purchase after clicking through, we get a small commission. It helps support us.
SHOEI NEOTEC 2 HELMET: (Ryan Urlacher was wearing)
Revzilla: bit.ly/3G1r4KE
Amazon: https://amzn.to/3FYIEim
SIMPSON MODBANDIT HELMET: (Ryan Urlacher's other helmet he wears)
Revzilla: bit.ly/3uZS3Qd
Amazon: https://amzn.to/3W8kbwG
STREET AND STEEL OAKLAND PROTECTIVE RIDING JEANS:
Revzilla: bit.ly/3uViYNj
KLIM K FIFTY 1 JEANS:
Revzilla: bit.ly/3FFm64P
Amazon: https://amzn.to/3j8ogCm
KLIM ZEPHYR WIND SHIRT:
Revzilla: bit.ly/3HHxKyL
Amazon: https://amzn.to/3HKrWof
KLIM CARLSBAD JACKET:
Revzilla: bit.ly/3WsAvIa
Amazon: https://amzn.to/3j8oolk
KLIM INDUCTION JACKET:
Revzilla: bit.ly/3YzDNLy
Amazon: https://amzn.to/3G0EEh4
ALPINESTARS CR-6 DRYSTAR RIDING SHOES:
Revzilla: bit.ly/3YvFREw
Amazon: https://amzn.to/3FyN7H7
SPEED & STRENGTH TRUE GRIT MOTO SHIRT
LAW ABIDING BIKER STORE: https://shop.lawabidingbiker.com/collections/jackets-vests-shirts
**NEW STOCK COMING SOON! CHECK BACK!
AXIAL LONG SLEEVE COMPRESSION SHIRT: (Hot weather base layers Ryan Urlacher was wearing)
Revzilla: bit.ly/3PxMOAU
AXIAL COMPRESSION PANTS:
Revzilla: bit.ly/3Pz6FQ6
HJC RPHA 90S HELMET (Lurch was wearing)
Revzilla: bit.ly/3BKaX1q
Amazon: https://amzn.to/3hA5mnu
HELP SUPPORT US! JOIN THE BIKER REVOLUTION! #BikerRevolution #LawAbidingBiker #Bikaholics
🛒SHOP IN THE LAW ABIDING BIKER STORE 🛒
😎BECOME A MEMBER AND GET BENEFITS 😎
📹GET PREMIUM MOTORCYCLE TUTORIAL VIDEOS 📹
🎬WATCH OUR MOTORCYCLE DOCUMENTARY FILMS HERE🎬
📱SHOP OUR AMAZON RECOMMENDED PRODUCTS 📱
🎙CHECK OUT THE WEEKLY PODCAST 🎙
Join the Free Email Club!
If you appreciate this free information make sure to join the thousands of law abiding bikers that have already joined the free Email Club! You will be notified of new useful motorcycle content and techniques as we put them out. Join the Community now!