Podcast: Play in new window | Download | Embed
Subscribe: Apple Podcasts | RSS
Podcast-In this episode we discuss the Discover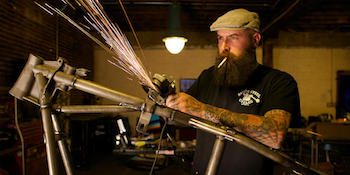 y series called Sacred Steel Bikes. The show released in late 2016 for a 6 episode run. At the time of this article, Discovery Channel has yet to renew Sacred Steel Bikes for a second season. Nobody is sure if the show will even be renewed.
Sacred Steel Bikes is based out of East LA and is about a group of guys that are part of a motorcycle club called Douche Larouche. It seems the members have full-time jobs and after work and on weekends they get together to build bikes in a shared shop space. Jason Wilson is the organizer of these custom bike build jobs and is a union sheet metal worker by day. He is trying to take Sacred Steel Bikes to the next level as a business, but can't seem to drum up any buyers.

The bikes Sacred Steel build are old school custom choppers. They are really cool to look at and much respect goes out to these guys for their talents. However, in a saturated market of custom bike builders, it's going to be hard to find buyers for these niche bikes and Jason is learning that.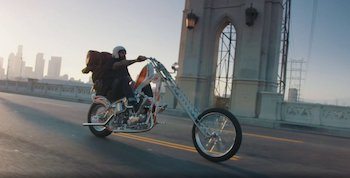 The bikes they build are custom "bar hoppers" at best and not built with any comfort, rideability, or reliability considerations. They'd be fun to ride local and to look at while drinking a beer with buddies. They're definitely not for any sort of distance riding. It seems Jason knows this issue and by the October 17th season finale episode, he's attempting to build a custom bike that's more rideable to appeal to a larger biker consumer base.
In early episodes, Jason is purposely poking fun at older Discovery Channel bike build shows such as American Choppers and their endless episodes of always having to make a deadline. Funny thing is, after several episodes Jason himself is running bike build deadlines and the show tends to focus on that. So, it mimics several other past Discovery Channel motorcycle build shows now. It seems that to sell commercial spots there has to be exciting down to the minute deadlines.
The show is fun to watch, so I say give it a try. There are many things that will make you laugh and many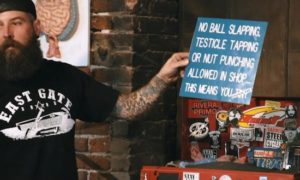 shenanigans that go on around the shop and very similar to things that go on around here at Law Abiding Biker™ Podcast & Media.
Make sure and listen in as we talk further about the show and a few other topics.
New Free Video Release:
Additional Subject Matter:
SKULLY HELMETS GOES BANKRUPT
Original Skull Helmets Podcast Episode #66
New Patrons:
Chris MacPhee of Scotland
Bill Houser
Brady Dehn of Henderson, Nevada
Preston Sunday of Owasso, Oklahoma
Kevin Karley of Rapid City, South Dakota


Bill Houser
Alejandro Guevara of HIALEAH, FL
Arrowhead Photography of Lakeway, TX
Richard Gross of JULESBURG, CO
Aaron Jarrett of Conifer, Colorado
Malcolm Godfrey of Mexborough, South Yorkshire , UK
Join the Free Email Club!
If you appreciate this free information make sure to join the thousands of law abiding bikers that have already joined the free Email Club! You will be notified of new useful motorcycle content and techniques as we put them out. Join the Community now!