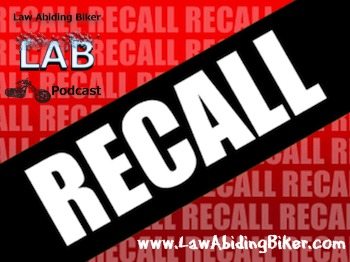 Harley-Davidson has issued a massive recall for its ABS-equipped 2014 Touring models. The recall notice affects 66,421 units. At issue is placement of the bike's front brake line, which may become pinched between the fuel tank and frame and potentially lock-up the front wheel. I just got the recall taken care of on my 2014 Harley Davidson Street Glide Special and it took about 20 minutes at the dealer. The mechanics remove your gas tank, inspect the brake line for damage, and then put two zip ties (cable straps) to keep the line in place so it can't get pinched.
I put this recall information out some time before I was able to produce the video and get this blog out. So, make sure you always check the podcast first and subscribe on your mobile devices. To find out how to subscribe or get the Law Abiding Biker Podcast on your mobile devices CLICK HERE.
Or you can just simply get our OFFICIAL APP
Here are the Harley Davidson models that may are affected.

For this most recent brake line recall, H-D owners can contact Harley-Davidson customer service at 1-800-258-2464. The affected recall units are from the models listed below manufactured from July 1, 2013 through May 7, 2014:
2014 FLHP Road King Police
2014 FLHR Road King
2014 FLHRC Road King Classic
2014 FLHRSE CVO Road King
2014 FLHTCU Electra Glide Ultra Classic
2014 FLHTCUTC (Uncertain on specific model, but potentially FLHTCUTG Tri Glide Ultra Trike)
2014 FLHTK Electra Glide Ultra Limited
2014 FLHTKSE CVO Limited
2014 FLHTKSHRINE Electra Glide Ultra Limited Shrine Edition
2014 FLHTP Electra Glide Police
2014 FLHX Street Glide
2014 FLHXS Street Glide Special
2014 FLHXSHRINE Street Glide Shrine Edition
Keep the rubbers side down and the shiny side up!