Podcast: Play in new window | Download | Embed
Subscribe: Apple Podcasts | RSS
PODCAST-In this episode we cover everything you need to know about motorcycle paintless dent removal (MPDR).  I had the pleasure of interviewing Daniel Gromm of Dent Dynamics Paintless Dent Removal out of Santa Rosa, California.  His direct website is www.dentdynamics.net, so make sure and check it out.  The website has a great photo gallery and videos of what type of quality work he does.  Also check out Daniel's other website at  www.motorcyclepaintlessdentrepair.com. Daniel Gromm does paintless dent removal for both motorcycles and cars and has been doing so since 1993, so it is fair to say he knows exactly what he is doing.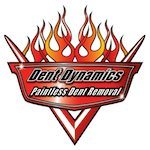 Daniel is a paintless dent removal (PDR) expert and also an inventor and mechanical designer. Daniel has designed his own exclusive line of PDR Tools called the "Daniel Gromm Signature Series". Daniel has come to understand what is needed to access the trickiest and least accessible dents from a motorcycle gas tank and has developed a complete set of tools that feature removable tips that adapt to each dent along with adjustable handles that make the PDR job easier.
Utilizing the latest technology and tools, the skilled metal "artisans" at Dent Dynamics in Santa Rosa, CA can quickly remove many dents without repainting, all at a fraction of the cost of traditional body repair. PDR is becoming more widely used, largely because the size of dent that can be repaired has increased over the last few years. Daniel Gromm explains, "We have developed specific techniques and equipment to repair a dent the size of a football , and just a few years ago we were only repairing dents the size of a baseball."
The widespread use of resilient metal and base/clear coat paint finishes has allowed PDR to become a viable alternative to traditional body repair techniques. So much so, that some insurance companies will even waive the deductible if PDR is chosen over more traditional techniques.
As I have stated in the past, Harley Davidson and other motorcycle manufacturers do not do body work if you dent a tin, such as a gas tank or fender.  They won't even release the paint codes that are necessary for matching.  Nope, you must purchase the whole new tin from the factory and then do whatever you want with the damaged one.  Oh, did  I mention you also have to pay your insurance deductible, because tins are not cheap?
PDR is truly a great alternative and can save you some serious money.  Do you have a custom paint job on your motorcycle?  Well, good luck matching everything up, not to mention the body filler that will be used to fix the dent.  Not so with paintless dent removal. You can send your tin to Daniel Gromm at Dent Dynamics and he will have it back to you in a short time, completely fixed without body fillers and without having to paint it.  He can also do other work for you if you are going to end up painting something, but can make many repairs without body filler.
Here are the five easy steps if you get a dent or ding in your motorcycle gas tank or fender: (This can all be found on the Dent Dynamics website of course)
Fill out a dent inquiry form and submit for an estimate (form is on website)
Email very detailed photos at different angles and provide a phone number
They will approve the job based on the photos that they receive and a possible phone conversation will follow
Mail your tank or fender to them (He says he has had good luck with UPS)….Make sure you air out your gas tank fumes a bit before shipping)
They will repair the tank or fender and send it back to you fully insured, in the original package it was shipped in.
And you know your dealing with a professional when this is stated on the Dent Dynamics website "If for any reason you are not completely satisfied with the results of your repair, we will not charge you for our services."
After 2 years of development, Daniel has created a specialized motorcycle tank vice to better serve his motorcycle PDR customers and their needs. Understanding the dynamics of the proper leverage and pressure applications necessary for the thicker metals of most motorcycle gas tanks and fenders, Daniel set out to invent the world's first Motorcycle PDR Tank Vice to handle the growing needs of the motorcycling community. "Today," says Daniel, "Dent Dynamics receives gas tanks in need of dent repair from all over the United States. It's incredibly satisfying to be able to fix something that, prior to my MPDR Tank Vice invention, was un-fixable."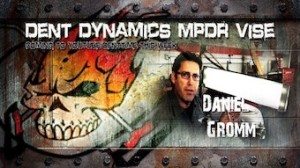 So, what are you waiting for? Fill out an inquiry form on the Dent Dynamics website, send him an email, and get your fender or gas tank fixed now.
Here are some import ant links for Dent Dynamics that we mentioned in the podcast:
WORLD'S FIRST MOTORCYCLE PAINTLESS DENT REMOVAL SYSTEM VIDEO:

MOTORCYCLE PAINTLESS DENT REPAIR VIDEO:

OTHER ITEMS IN THIS PODCAST EPISODE:
DON'T FORGET: The Law Abiding Biker Podcast has a hotline number, which is 509-731-3548.  You can call from any phone and leave us a voice message with any comments or questions, which may be played on an upcoming podcast episode!  We love to hear from the Law Abiding Biker Community! We want to know your thoughts and opinions.  
You can also leave us an email or web based voicemail using the microphone on you computer at
www.LawAbidingBiker.com/VoiceMail.
 We want to make it as easy as possible for you to contact us!
We thank several persons for their recent donations, which is what keeps this content coming your way.  If you want to support Law Abiding Biker Podcast & Media and enjoy the content then please
consider a donation
.
John Anderson left a comment on one of our website blog pages at
www.lawabidingbiker.com/dakotashield
 and he asks, "
What's up I have commented on the YouTube Video and messaged you guys on Facebook but not sure if you will get them so decided to try here. I got a 7″ Dakota-Shield love it! But it seems to not want to form to my outer faring and it is causing a gap between the faring and windshield. To me it looks like water could get into my electrical I got a 2500 mile ride coming up and not wanting to worry about that 2013 SG. Any advice would be great! Thanks!"
My response to John:
"Thanks for commenting John! Sorry, but FaceBook email is the last one to get checked. Comments here (on the blog page) and direct emails via our contact form get checked first https://www.lawabidingbiker.com/contact. Anyways, on the Dakota-Shield; You don't have to worry about the gap. Many aftermarket and even some Harley windshields create a gap. Even without a visible gap, water can get down inside the fairing, which it does every time you wash it or ride in the rain. Those components, including electrical, inside the fairing are made to withstand moisture, cold, hot etc. Harley knows water and much moisture will get in there makes them to withstand those things, so no worries bro. Same thing under the seat and your fuse box. All made to withstand water. I spray the crap out of my bike with a pressure washer and water definitely gets into everything. Ride Safe and have a blast on your ride!!"
As always, keep the rubber side down and the shiny side up!