Podcast: Play in new window | Download | Embed
Subscribe: Apple Podcasts | RSS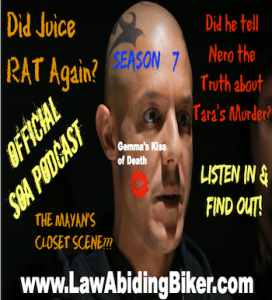 PODCAST-In this episode we cover Son's of Anarchy Season 7; Episodes 5 & 6. We have packed this episode with information to get everyone up to speed. We have some great insights and predictions. Episode 5 aired on 10/07/14 and was titled "Some Strange Eruption" and Episode 6 aired on 10/14/14 and was titled "Smoke 'Em if you got 'Em".
The slaughter at Diosa by the Chines has certainly set the club back. As if Jax was not already angry enough, now he has every reason to go forward with reckless disregard.
Chibs and Sheriff Jarry are getting close and personal. The question is if Sheriff Jarry is actually on the take or if she is working a case. Is she taking the money or is she setting SAMCRO up for a large scale RICO case?
We are patiently waiting to find out who gave up the location of the guns to the Chinese. We have strong reason to believe it was Jury, the Pres of the Indian Hills Chapter, because we know one of men Jax and crew killed must have been close to him. It is all to possible that Jury is working with Berosky, who may also be involved with disclosing the information to the Chinese.
Nero is in the thick of it. Jax finally reveals to him that he believes the Chinese killed Tara. Of course the only witness is his beloved Gemma. Mayan's President Marcus Alvarez takes temporary custody of Nero and they lock him in a closet. That is because Nero failed to disclose information to him.
We know Juice did not have the balls to kill Gemma after they ended up in a desolate area. Gemma ends up walking to a Cafe and later meeting up with Wendy and Unser. Juice robs a convenience store and then ends up at the Mayan's Club House. He is trying to get safe passage to Mexico in return for giving information about SAMCRO to Marcus Alvarez, the President of the Mayans. Alvarez will have nothing to do with it and notifies SAMCRO, who later take custody of Juice. But not before Juice gets locked in the same closet as Nero and they talk. The huge question on everyone's mind is, [Read more…]