See ALL Official Boom!™ Box Tutorial Videos!
-Join the thousands of bikers that are no longer stressing!
Videos By Bikers For Bikers
If you want to stay up to date on all  Harley Davidson Boom!™ Box updates and issues, subscribe to the free Law Abiding Biker Email list below:

Harley Davidson and Harman Kardon just released Boom!™ Box software update version 1.19.1.1 in November, 2015.  We have received many inquires from bikers asking if they should update to this version. It is always a good idea to wait and see if an update fixes more than it breaks and let me have some time to test things.
Note: This particular update if only for the Boom Box 6.5T Premium system and the CVO 6.5GT system. It is not for the standard 4.3 system.
I give the go ahead to update to this new Boom Box software update version, 1.19.1.1. I heavily tested the last big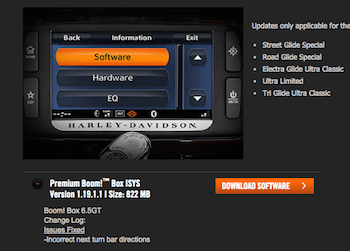 updates, version 1.19.0 & 1.19.1, back in July 2015. In this newest version, 1.19.1.1, only one new item/bug was actually fixed. That new item is labeled "incorrect next turn bar directions." That refers to when you are in GPS mode on the Boom Box and it advises you of the next turn at the bottom of the screen.  Many bikers were experiencing problems with this function.
Resources & videos:
Remember; The Harley Boom!™ Box still has many annoying bugs and problems, so don't expect this software update to suddenly fix everything.
If you don't know how to properly update your system software and maps then check out my Official Boom!™ Box Software Update  Video.
This update claims to fix the following: (1.19.1.1)
New Features:
-Incorrect Next Bar Turn Directions
Download Update
The Boom Box & Harley Davidson Ride Planner have been working pretty well together. The Boom Box Navigation has been more stable too! If you aren't using Harley Davidson's Ride Planner to integrate with your Boom!™ Box system then you are [Read more…]