Podcast: Play in new window | Download | Embed
Subscribe: Apple Podcasts | RSS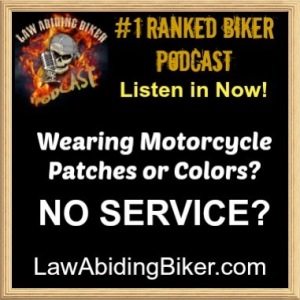 PODCAST-Is it legal for private businesses to refuse service to members of the law abiding biker motorcycle clubs for simply wearing "colors", club affiliation patches worn on biker's vests? We have been asked this question many times here and recently received a voicemail asking this very question once again. You may hear many different things and less than truthful information and that can be frustrating for many bikers. So, as usual we broke it down for the biker community, so listen in on this debate and information! At the end of the day it doesn't really always matter what we as bikers believe should happen, but what is fact. Know that this will likely be a civil issue unless your behavior turns it into a criminal issue.
Things to think about before acting:
If you are confronted with a business refusing service to you as a biker then take a breath, leave calmly, and never go back to or support that business. You will never win by causing a scene or getting disorderly. If you believe your civil rights have been trampled then converse with an attorney to see what your legal options are if any. At best it will be a long expensive drawn out civil lawsuit, so choose wisely.
Further, share your experience with as many bikers as you can via podcasts, other social media platforms, local media etc. In this day an age it is not tough to get the word out to let bikers know of "not biker friendly" establishments and we can hit them in the pocket book where it really matters. This may also bring awareness to many. There are websites and social media platforms dedicated to this.
It will serve no purpose to [Read more…]