Podcast: Play in new window | Download | Embed
Subscribe: Apple Podcasts | RSS
Note: Law Abiding Biker™ Media is not recommending you use any oils in your Harley engine that are not officially approved and/or recommended by Harley-Davidson. We are only relaying information that is known to many in the biker community. You are solely responsible for what you decide to do to your bike.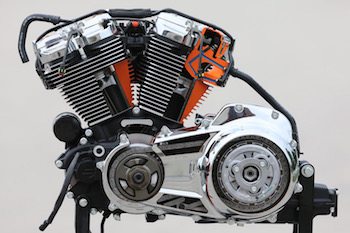 Podcast-Okay, so you're out on a motorcycle road trip and don't have any synthetic oil or "approved" oil for your Harley-Davidson, but need some suddenly. There are no close stores for motorcycle oil, but the local truck stop has heavy duty 15W-40 diesel oil available. Can you throw some of that into your Harley motor and be on down the road? Maybe you are you on an extreme budget and can't afford full Synthetic motorcycle oil, such as 20W-50 Amsoil, which we use here at Law Abiding Biker™ Media in all our bikes.
Check out theses podcasts:
Oscar is on a mic during this episode and I get to ask him a bunch of technical questions. As you all know by now, Oscar is a wealth of knowledge and my beloved resource when it comes to motorcycle oils and used oil analysis (UOA). We use Black Stone Lab for all our UOA's.  You'll have to listen in to get all the details on this topic as Oscar spills his knowledge!
Like a diesel engine, a Harley engine is classified as "heavy duty" use. So, many of the additive packages they put in the oils are very similar. If you're going to do this, our suggestion is to at least use full synthetic 15w-40 heavy duty diesel oil.  Again, we are not actually encouraging anyone to put heavy duty diesel oil in their Harley. Always check with your local Harley-Davidson dealership mechanic for advice.
There are many bikers out there that swear by using heavy duty diesel oil in their Harley. Big Daddy Kane here at Law Abiding Biker™ Media has also done it before in the past. Just know that Harley-Davidson recommendations are different and you definitely could have warranty issues should they discover it. If you're not under warranty then heck, do what you please at your own risk.
Our personal take on it? Oscar and I are going to continue using full synthetic 20W-50 Amsoil in our Harley-Davidson's as it's approved and we love it. I'll spend almost the same amount of money buying full synthetic 15W-40 heavy duty diesel oil anyways. But, if you're using standard (non-synthetic) 15W-40 heavy duty diesel oil then you can go real cheap.
New Free Video Announced:
Pure Gas App we discussed: (Find Ethanol Free Gas)
Email we covered:
Email From: David Caldwell
Thanks! I was scheduled for an expensive dyno tune at Hammer Performance here in Sandpoint (great bunch of guys), but I watched your post re Vance & Hines' FP3. Cancelled the dyno thing, ordered the FP3, and installed it today. Cleaned my 15 Road Glide Special right up. Amazing piece of work. Bought the bike off the showroom @ Lone Wolf, had a stage one put in first thing, and it never would run right. Had them re-tune this spring, but no improvement. Did the FP3, ran a 45 minute map run, zapped it, and fell in love with my bike all over again. The dyno tune at Hammer and the FP3 were basically even money (actually Hammer had the potential to be quite a bit more), but with the FuelPak I can keep tuning indefinitely. As you can see from your roster, I support what you're doing. Keep it up!
New Patrons:
Osvaldo Banuelos of Burbank, Illinois


Join the Free Email Club!
If you appreciate this free information make sure to join the thousands of law abiding bikers that have already joined the free Email Club! You will be notified of new useful motorcycle content and techniques as we put them out. Join the Community now!