Podcast: Play in new window | Download | Embed
Subscribe: Apple Podcasts | RSS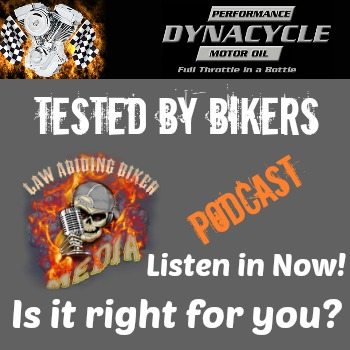 In this episode we talk about Dyna Cycle Semi-Synthetic oil we recently tested. The company sent us some oil earlier in the year asking us to check it out. So, in true Law Abiding Biker Media style we went full throttle at it. I put Oscar as lead on the project and he is on the mic in this episode to tell you everything we learned. Oscar is a wealth of knowledge on oil and oil testing.
This episode is packed with useful information for the average day to day biker out there.  Oscar has useful tips he shares that all bikers can benefit from. You can learn a ton about what is going on inside your motorcycle engine with fairly affordable oil testing.
We tested Dyna Cycle oil in one Harley and Amsoil in another. Both bikes have the same motors, were riding the same distance, and in the same environments. Oscar gets into more depth about how the tests were initially set up. Oscar took oil samples before and after our tip to Sturgis, SD this year and sent them off to Black Stone Lab, whom are a completely independent Lab. The results are listed below in .pdf's, so take a look if you like. You'll need to listen in to fully understand the results, but we wanted to make them available.
Listen in to this podcast episode to find out which oil we are going to use in our bikes here at Law Abiding Biker™ Podcast & Media!
Official Amsoil & Dynacycle Oil Testing Information Written by Justin Mallonnee (Aka: Oscar):
INTRODUCTION:  
LAB media was approached by Dynacycle to test their motorcycle oil, a semi-synthetic 20W-50.  The timing of the request was ideal as we would be riding to the annual Sturgis motorcycle rally in the summer.
We are often asked which oil is the best.  While we all have our opinions, some stronger than others, we can pick the oil that is best for us.  How do we do that?  One of the best ways to determine how any particular oil works for you is by used oil analysis (UOA).  A lab, in this case Blackstone Labs, can test a sample of oil and tell you important facts about it.
This is precisely what we decided to do when Dynacycle approached us.  Put Dynacycle and Amsoil in two bikes, ride them to Sturgis, and report the results when we returned.
THE BIKES:
The test bike was a 2013 FLHTK (Limited) with a 103 ci motor, Power Vision with Dynojet "canned" tune; aftermarket exhaust and stage one intake.  The control bike was a 2013 FLHX (Street Glide) with 103 ci motor, Power Commander with Dynojet "canned" tune, aftermarket exhaust and stage one intake.  Both bikes had less than 20,000 miles on them and both were in otherwise good running condition with no known mechanical issues.  Both bikes were comparably loaded with gear, though the Limited carried a passenger and the Street Glide did not.  
THE CONDITIONS:
Both bikes were to be ridden in the same trip, approximately the same number of miles in the same environmental conditions.  As we rode in a group we were able to ensure that the bikes were in the same conditions, ridden at similar RPM's and speeds.  
We approached this from a consumer's standpoint, not necessarily a scientific one.  While we kept conditions similar we also recognize that these bikes are made to travel long distances with gear and passengers and thus minor differences in weight, speed and such were not necessarily important (though in the true scientific tradition they would be tightly controlled, here they were not).  From a consumer standpoint the minor differences in these bikes, and many bikes, are not remarkable.  We are riding consumer bikes, not custom built, high horsepower, high torque bikes made for racing.  We expect that anyone reading these results could extrapolate the information to their own, similarly equipped, consumer style bike.
THE METHOD:
Both bikes were ridden to operating temperature at the same time on the same date to a location where the fluids were changed.  The Limited had all three fluids changed – Dynacycle in the engine and Amsoil 20W-50 MCV in the primary and transmission.  The Street Glide had fresh Amsoil MCV in the engine.  The Street Glide had relatively new (about 1,000 miles) transmission fluid and primary fluid (Amsoil MCV) and thus were not changed.
Samples were taken from the engine oil at drain for each bike.  The oil was allowed to drain for two seconds prior to filling the drain bottle.  These samples were labeledand stored in a temperature controlled garage for later analysis.
At the return of the trip the Limited was ridden to operating temperature and a sample was pumped from the engine sump.  The sample was labeled and set aside for analysis.  About a week after the Street Glide was also ridden to operating temperature and a sample was pumped from the engine sump.  The pump was thoroughly cleaned and degreased before each sample was taken. The last samples were stored in a temperature controlled garage prior to mailing to Blackstone.
Again we approached this from a consumer standpoint.  Neither brand's website required a "flush" procedure to produce the stated results so neither bike was flushed. This means that a small amount of whatever oil was in the bike prior would be left in it.  In this case Amsoil MCV was in both bikes prior to the test.
Using the Powervision on the Limited, a series of temperature measurements were taken – prior to the ride and during the ride.  Temp measurements were taken prior to the ride in ambient temperatures well over 90 deg F with a passenger aboard, the same passenger for the Sturgis trip.  
THE RIDE:
We rode from Yakima WA to Sturgis SD covering about 2800 miles for the round trip.  We experienced temperatures over 100 deg F, rain, wind, freeway and stop and go traffic.  The ride and Sturgis experience was fantastic.
CONCLUSION:
You can see the attached used oil analyses from Blackstone Labs.  We used Blackstone as they come highly recommended from a variety of sources, are reputable and professional and their results are easy to read.  In this case we can make comparisonscomparison's not only between bikes but also within bikes.  
You can see that some concerning trends showed up with the Dynacycle oil.  The only true way to confirm these trends is to change the oil back to Amsoil MCV and see if the trends continue.  We will post another UOA from the Limited after another 5000 mi, sometime next summer.

You can see how important a UOA can be for your own bike.  Narrow your search of oils down to one or two, use it and get an analysis done.  The analysis will tell you if the oil is doing what you expect it to.  In the case of the Limited we will not only post the next UOA but one after that, taking the oil out past 5000 miles.  We will see how the Amsoil does, though we expect excellent results.
Official LAB Oil Reports: (PDF)
Join the Free Email Club!
If you appreciate this free information make sure to join the thousands of law abiding bikers that have already joined the free Email Club! You will be notified of new useful motorcycle content and techniques as we put them out. Join the Community now!