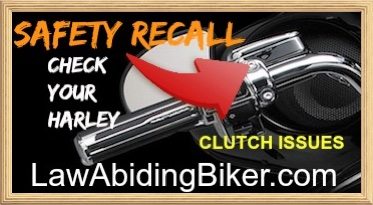 The recall covers certain Electra Glide, Ultra Limited, Police Electra Glide, Street Glide, Road Glide and Road King models from the 2014 and 2015 model years.
Harley says in documents that gas bubbles can cause the clutch master cylinder to lose its ability to fully disengage the clutch, especially if the bike has been parked for a long time. This could cause a rider to lose control of the motorcycle if it's started in gear.
The problem was found through customer complaints. Harley reported 27 crashes and four minor injuries.
Dealers will flush the clutch and rebuild the master cylinder. The recall was to start April 23.
There have been several other Harley Davidson 2014 & newer clutch recalls and we have been covering it. See the these links below for videos and articles.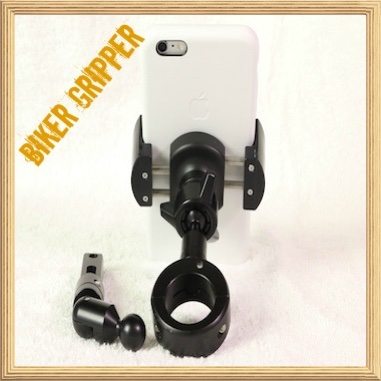 Our Custom Biker Gripper Cell Phone & GPS Mounts
Need a motorcycle cell phone or GPS mounting solution Bikaholics?

That's right, Law Abiding Biker Media put our logo on these mounts & we personally use them on our motorcycles!

The sexiest, lightest, and strongest mounts available period.

Good prices and fast shipping from

our store

?
Check out our

COMPLETE REVIEW
Press Release:
RECALL Subject : Clutch may not Fully Disengage
Report Receipt Date: APR 13, 2015
NHTSA Campaign Number: 15V216000
Component(s): POWER TRAIN
Potential Number of Units Affected: 45,901
All Products Associated with this Recall
Vehicle Make Mode lModel Year(s)
H-D FLHRSE 2014
H-D FLHTCU 2014-2015
H-D FLHTCU TC 2014-2015
H-D FLHTCUL 2015
H-D FLHTCUL TC 2015
H-D FLHTK 2014-2015
H-D FLHTKL 2015
H-D FLHTKSE 2014-2015
H-D FLHTP 2014-2015
H-D FLHX 2014-2015
H-D FLHXS 2014-2015
H-D FLTRX 2015
H-D FLTRXS 2015
Details close
Manufacturer: Harley-Davidson Motor Company
SUMMARY:
Harley-Davidson Motor Company (Harley-Davidson) is recalling certain model year 2014-2015 Electra Glide Ultra Classic (FLHTCU), Electra Glide Ultra Classic – Twin Cooled (FLHTCU TC), Ultra Limited (FLHTK), Police Electra Glide (FLHTP), Street Glide (FLHX), Street Glide Special (FLHXS), CVO Street Glide (FLHXSE), 2015 Electra Glide Ultra Classic Low (FLHTCUL), Ultra Limited Low (FLHTKL), Electra Glide Ultra Classic Low – Twin Cooled (FLHTCUL TC), Road Glide Special (FLTRXS), Road Glide (FLTRX), and 2014 CVO Road King (FLHRSE) motorcycles manufactured April 28, 2014, to October 24, 2014. In the affected motorcycles, the clutch master cylinder may lose the ability to generate enough lift to disengage the clutch, especially if the motorcycle has been parked for an extended period of time.
CONSEQUENCE:
When the engine is running and the motorcycle is in gear, if the clutch cannot be fully disengaged, the motorcycle may move unexpectedly, increasing the risk of a crash.
REMEDY:
Harley-Davidson will notify owners, and dealers will flush the clutch system and rebuild the clutch master cylinder, free of charge. The recall is expected to begin April 23, 2015. Owners may contact Harley-Davidson customer service at 1-800-258-2464. Harley-Davidson's number for this recall is 0165.
NOTES:
Owners may also contact the National Highway Traffic Safety Administration Vehicle Safety Hotline at 1-888-327-4236 (TTY 1-800-424-9153), or go to www.safercar.gov.