Podcast: Play in new window | Download | Embed
Subscribe: Apple Podcasts | RSS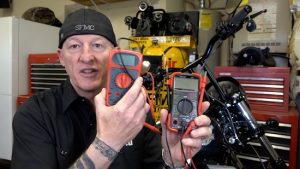 We explain how to easily test your motorcycle battery & charging system using a simple inexpensive digital multimeter right in your very own shop or garage. No need to go running to a dealership to spend money. Be in the know on whether you actually need a new motorcycle battery or not. Or you may find it's not the battery at all and a charging system problem instead.
Your battery may even be holding a charge, but it's the cold-cranking amps that may determine if your battery needs replacement.

We explain how to choose the correct settings on your multimeter & complete all the necessary tests.
Set the multimeter/voltmeter to DC volts (20v range). The particular multimeter listed on this page (left) has an actual 12v setting, making it very easy. Many voltmeters might only have a 20v setting, which is the one you should choose and will work the same.
Note: These multimeter settings will be used for all the below motorcycle battery and charging system tests. 
A must listen to Law Abiding Biker™ Podcast Episode and Article: Episode #134 (click link below)
A must listen to Law Abiding Biker™ Podcast Episode and Article: Episode #176 (click link below)
Static Battery Voltage Test:
Make certain you have not recently charged your motorcycle battery. Let it sit for at least an hour after disconnecting it from a charger. Turn on your ignition so your headlights are on and other accessories for about two minutes and then turn the ignition off. This is to get rid of any surface charge.

Place the voltmeter leads to the battery terminals. (positive to positive and negative to negative). A good battery should read between 12.4 to 12.6 volts, 12.6v being optimal. If it reads below those values then your battery is not keeping a full charge. ==> READ MORE AND SEE OUR VIDEO HERE
New Free Video Mentioned: 
Sponsor-Ciro 3D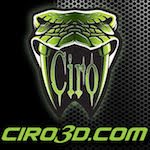 Innovative products for Harley-Davidson & Goldwing
Affordable chrome, lighting, and comfort products
Ciro 3D has a passion for design and innovation
Sponsor-RickRak

The Ultimate Motorcycle Luggage Rack Solution
Forget those messy straps and bungee cords
Go strapless with a RickRak quick attach luggage system & quality bag
New Patrons:
Jessica Allison of Fort Scott, KS

JC Moen of Fargo, North Dakota

Keoni Kaloi of Richland, WA