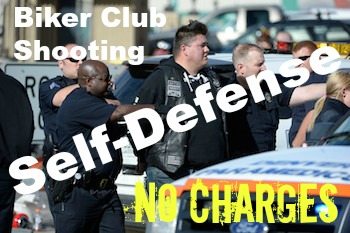 Self-Defense-Iron Order Motorcycle Club member Derrick "Kong" Duran has been cleared of any wrongdoing in the fatal shooting of Mongols MC member Victor "Nubs" Mendoza that occurred on January 30, 2016 at the Motorcycle Expo at the National Western Complex in Denver, Colorado.  Many articles & bloggers want to note that Duran is a corrections department employee. If we are going to note Duran's employment affiliation, then we might as well clearly note that Mendoza was a full patch member of the Mongols MC, a clearly recognized outlaw motorcycle gang (OMG) with convicted felons as members.
As I have stated many times, I have no affiliation with either of the motorcycle clubs involved, neither the Iron Order MC nor the Mongols MC. I have never personally experienced a problem with members of either club. Instead, I rely on facts and the appropriate criminal investigation. The basement bloggers will continue their rants of ridiculous conspiracy theories to fit their agendas. Of course, they have zero evidence of such to present when asked.
Listen to our Law Abiding Biker Podcast Episode #101 on this incident:
The  Denver Police Department spent hundreds of hours on this detailed criminal investigation. On Monday, it was turned over to the Denver District Attorney's Office, said Denver Police Commander Ron Saunier, as a first-degree murder case.  The DA's Office revealed in a press release that both Duran and Mendoza fired shots. A confrontation occurred between the Iron Order and the Mongols. At some point, Duran fired the first shot, which injured one person. Mendoza then fired his pistol at Duran, grazing his torso and striking another man standing behind Duran. At this point, Duran fired back at Mendoza, killing him.
The official press release from the DA's Office dated April 19, 2016 says, "The case was presented for consideration of charges yesterday, and the legal review concluded that there is no likelihood of a conviction due to the self-defense claim of Mr. Duran."
The DA's Office said four people were hit by gunfire, two people were victims of assault and one person was stabbed during this incident. Commander Saunier said about 40 witnesses were interviewed at the scene and 17 of those were with the Iron Order MC. So, that means 23 of those witnesses were completely independent bystanders.  Saunier said, "We have considered this a homicide investigation throughout. I believe we have done a complete and thorough investigation."
Note: Fatal shootings are investigated as a homicide from the ground up by law enforcement in the U.S. and are taken very seriously when it comes to overall efforts. The self-defense or "justifiable homicide" prong can later be investigated and a DA can clear an individual as happened in this case. Clearly, there was a lack of evidence and any credible witnesses to move forward with any possible charges.  Nothing here is out of the ordinary of how any fatal shooting investigation is handled by law enforcement and a DA's Office. This is standard procedure.
As usual, the Mongols MC did not cooperate with the investigation whatsoever, which will never help in any investigation of this nature. The Iron Order on the other hand completely cooperated with the investigation.  This seems to be commonplace in other incidents that have occurred between the Iron Order MC and outlaw motorcycle clubs or smaller puppet clubs of OMG clubs.
During the investigation, Stephen Stubbs, attorney for the Mongols, was ranting and trying to drum up public support for the criminal biker club on multiple social media platforms. He even made a ridiculous YouTube video trying to gain support. Don't forget his press conference asking for witnesses to speak to police and defend the Mongols. However, Mongol members we're not cooperating, but asking others to do so? Clearly, none of it worked and when witnesses and/or victims don't cooperate with criminal police investigations then you can't expect that the case will end up going anywhere. We haven't heard much from Stubbs since and it seems he ran out of steam.
John Whitfield, an Attorney and member of the Iron Order, said all along that it was the Mongols who started the fight by jumping three outnumbered Iron Order members.
The Bureau of Alcohol, Tobacco, Firearms and Explosives said in a 2014 report that the Iron Order's patch "has infuriated" members of several outlaw groups, including the Hells Angels, Iron Horsemen, Pagans and Bandidos. Back-and-forth beatings ensued.
The Iron Order MC claims law abiding biker status and through all our research we can't find any evidence to the contrary at this point. As mentioned many times here at Law Abiding Biker Media, the Iron Order is not a law enforcement motorcycle club (LEMC) or  "cop club", nor to they claim such.  They have members from all walks of life.  The Iron Order seems to be aware it has serious public perception issues for certain at this point and we'll see what happens from here. We have to stay with the facts here and realize that perception is not factual, but it can be problematic.
Make note that here at Law Abiding Biker™ we have never reported that every single biker in every criminal outlaw motorcycle gang, such as the Mongols MC, is committing daily criminal acts. That would make us like the basement bloggers to assume and place broad stereo-types. However, it is fact based on history and evidence that there are factions within outlaw 1%er clubs that are committing and continue to commit criminal acts to include murder, assault, extortion, racketeering, robbery, & drug trafficking just to name a few. And it is tolerated within the clubs and many look the other way.
I am stating facts about the Mongols MC and what can be learned by your own simple internet searches. The Mongols MC is clearly labeled an OMG by the Federal Government. They proudly claim that they are a 1%er outlaw motorcycle gang by wearing the patch. Taken from the homepage of their own official website proudly telling the world they claim 1%er status and are the "baddest".
Brotherhood and Biking for over 40 years. We are the MONGOLS MC, the Best of the Best! The baddest 1%er Motorcycle Club known worldwide. 
Many members of Mongols MC members are serving time in prison for things such as murder, assault, extortion, racketeering, robbery, & drug trafficking, just to name a few. And Mongol MC members and other criminal outlaw club members continue to be arrested for an array of crimes. I have found no evidence that this is true for the Iron Order MC at this point.
Recent Podcast Episode we did on the Lisa Ling CNN Mongol MC Special:
Related Articles, Podcasts, and Helpful Information: (Be Informed)
Listen to Podcast Episodes 64 & 65 with Ray Lubesky (Past International President of the Iron Order MC):