Save money now. Install a Fuelpak 3 on your Harley-Davidson yourself.

Make certain your EFI is properly tuned on your motorcycle for optimum performance.

Do it in your garage or on your patio right on the kickstand! 
A Video by Bikers for Bikers!
By Bikers For Bikers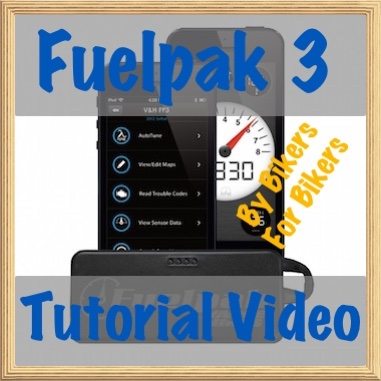 VIDEO-This is a thorough tutorial video on how to install a Vance & Hines Fuelpak 3 EFI tuner on your motorcycle, get it up and running, update the software, auto tune your motorcycle, and then flash that information to your engine control module (ECM)! From start to finish we have you covered in an extremely easy to understand & detailed free video.
In this video we use a Harley Davidson motorcycle. We show you how to install the Fuelpak 3 on your newer model Harley Davison motorcycle via the data link connector (DLC) also known as a CAN bus connector. We then show you the best solution for mounting your cell phone on your motorcycle handlebars with a Biker Gripper Cell Phone Motorcycle Mount, so you can view real time data on your smartphone directly from the Fuelpak 3 via bluetooth! That's right, no messy wires running under your tank and up your handlebars like many other EFI tuners require. We show you other tips, tricks, and functionality of the Fuelpak 3 in this video!
Save yourself money and don't rely on a dealership or technician to install and EFI tuner or auto tune your Harley. After watching this tutorial video you will definitely be able to install the Vance & Hines Fuelpak 3 on your own motorcycle right on the kickstand in your garage or on your patio! No specialty tools are needed.
If you get new head pipes, mufflers, or air intake on your motorcycle then you need to at least
do a basic re-map of your motorcycle's electronic fuel injection (EFI) or things will not run properly. The Fuelpak 3 is a great all in one solution for this.
SO YOU CAN HOLD YOUR PHONE TO VIEW THE V&H FUELPAK 3 APP. BEST MOUNT AVAILABLE!
Harley Davidson will charge you $200 plus to do this and you will only get a basic (canned) map & no auto tune. Then if you ever change anything you will be back in a Harley dealership giving them another $200 plus for a new basic canned EFI map. The Fuelpak 3 will allow you to easily do what the dealership does plus auto tune your bike over and over again.
We show you how to start with a pre-determined (canned) EFI map by Vance & Hines based on your particular pipe and intake set up. That gets you started and then you can get more detailed and run auto tune sessions and flash your ECM afterwards to really dial things in. We make this process super easy for you to understand and perform yourself. You can really increase the performance and efficiency of your motorcycle with the Fuelpak 3, so let us show you how & take the stress out of if.
Your stock Harley Davidson has narrow-band 12mm O2 sensors and  the Fuelpak 3 uses those to tune your bike. Some other aftermarket EFI tuners use wide-band 18mm O2 sensors to tune. You must order special pipes with 18mm bungs to accept the larger O2 sensors or have them welded in. Many will say that you get broader readings and tuning capabilities with wide band O2 sensors. For the majority of every day bikers we think the stock 12mm O2 sensors are just fine for our needs and you would not notice any difference for simple EFI tuning needs.
Most bikers will flash their ECM with a canned map and then run some auto tune sessions. If you later want to become a tuning expert you can really mess around with adjusting individual cells and make your own custom maps based on a ton of readings right in the app on your smartphone. That process is for tuning experts only and not realistic for the every day biker, so we stay away from that and it is not shown in this video.  You can damage your bike if you start doing that kind of advanced manual tuning unless you really spend a lot of time doing it and understanding it.
A great feature built into the Fuelpak 3 app is the ability to contact Vance & Hines directly from within. Additionally, from the app you can upload your auto tune session results to Vance & Hines. They can look at it, adjust it, and send it back to you in the app. Then you can flash your ECM with that new custom map! You can even turn on a feature that lets Vance & Hines see data readings of your running motorcycle remotely in real time. That is super cool!
The app also allows you to see a ton of data real time while you are riding right on the screen of your smartphone via the app. You can pick what you date items you want to display such as speed, engine temp, RPM's, throttle position sensor, just to name a few. That is why you will need a Biker Gripper Cell Phone Motorcycle Mount.  The Fuelpak 3 app has a great user interface, is super easy to use, and easy to understand. It ran flawlessly during our testing and you never need a laptop or computer like many other aftermarket EFI tuners. Everything is done right from the Fuelpak 3 app!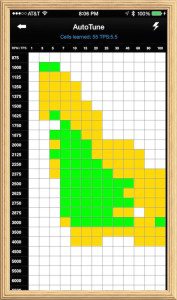 Here is a picture of an auto tune I did. I was building on a previous map where I rode for about 60 miles.  I then rode about 600 miles over a 2 week period. I rode on city streets, county roads, and state highways and this was the result. I then flashed my ECM with this auto tune map.
Keep the rubber side down and the shiny side up!
Join the Free Email Club!
If you appreciate this free information make sure to join the thousands of law abiding bikers that have already joined the free Email Club! You will be notified of new useful motorcycle content and techniques as we put them out. Join the Community now!