Podcast: Play in new window | Download | Embed
Subscribe: Apple Podcasts | RSS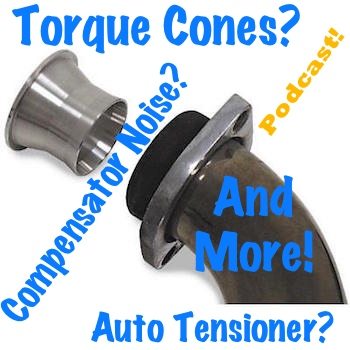 Podcast-In this episode we start out with a post from a Patron member of Law Abiding Biker private Facebook Group. That private Facebook Group is growing quickly and it is all about bikers helping bikers. The only way to get in is to become a Patron Member of the show.
Patron member Carl Lingelbach posted a question about motorcycle torque cones for exhaust headers and their effectiveness. He put true dual exhaust on his Harley and now doesn't have enough back pressure and his bike is not performing optimally.
Luckily, I had mechanical advisor Oscar on the microphone and he answered this very question. At the end of the day, he's not a big fan and doesn't think that torque cones are all that effective. There are much better options for performance out there like getting other exhaust aside from true dual pipes. You'll just have to listen to get all the details.
Sponsor for this Episode: (Biker Supporters!)
Next we cover an email from Nora Dalton and she asks:
I have a 2014 FLHTK with a compensator noise.  I'm talking with HOG members with the same compensator noise can you tell us what is going on with the Harley Davidson compensator problem?
Our Original Response:
Listen and you might also hear the chain whirring around in the primary. Pull the primary cover off & replace the OEM Primary Chain Auto Adjuster with a new Auto Tensioner. A few have experienced that the auto tensioner was bad or needed to be quickly adjusted.  What your hearing could be a primary chain with slack in it. So as the bike idles you hear the chain whirring or rubbing against the inside of primary. Then the compensator eventually gets a slack slap (knock).
Of course we discuss this in more length, so listen in.
Next we cover a voicemail we received from Martin Royal:
Martin is wondering if he can use the Vance & Hines Fuelpak 3 (FP3) motorcycle fuel injection tuner (EFI) with his stock Harley head pipes if he removes the catalytic converters (cats). He related information from Vance & Hines that the stock O2 sensors are too close on the stock Harley head pipes and he will get cross-talk of some sort & that the auto tune function could then not be used.
Note: Make certain you check your local, State, & Federal laws before removing catalytic converters from motorcycle exhaust pipes.
Oscar and I give our personal opinion and our real world experience on this matter. Quite a few of us are using the Vance & Hines Fuelpak 3 on our current Harleys in just the manner Martin describes in his voicemail and have absolutely no problem with the functionality of the FP3 and our bikes are running great! And yes, we run the auto tune function on the FP3 and it works great!
Certainly you could buy Vance and Hines head pipes or another manufacturer if you choose and they don't have catalytic converters and the O2 sensors are in a bit different location.
Next we cover and email from Peter Ried Fort Hood, TX: (stationed there)
I have been a member of your youtube channel and facebook page for Law Abiding Biker. After watching your videos and doing my own research I purchased my First Harley today. I haven't ridden a bike in years and love my 2014 Street Glide. Just wanted you to know that your information and videos is what put me back on a bike. I am stationed at Fort Hood. I at cant wait for more information on your forums. Keep up the great work
Next we cover and email from Rory Seldon of Walnut, CA:
Just wanted to drop a note and say that I tried to install the Hogtunes without your video and wasted several hours.  Once I purchased the video, installation was a breeze.  Great job and well worth the money!!!!
Next we cover and email from Jon Philbrick:
Thanks for the bundles of information you have passed on throughout the year. You are appreciated and looked to as a source of information. I know it takes more time than I think I could expend to put together your programs for us bikers (and other interested parties), but there are those among us that acknowledge your extra effort, and all useful.

So as this year comes to an end and another one is coming face to face with us, I wish you and yours a most Merry Christmas and a great new year. May you be in health and continue on with your enthusiasm…and great informative emails/videos.
New Patrons:
Dave Henke of Cypress, TX
Mark McDermott of Arlington, WA
Bill Jordan of Bainbridge, GA


Mike Matuszek of St. Charles, IL
David Duffey of Jackson, TN
Tim Valdez of Arvada CO – has donated previously
Join the Free Email Club!
If you appreciate this free information make sure to join the thousands of law abiding bikers that have already joined the free Email Club! You will be notified of new useful motorcycle content and techniques as we put them out. Join the Community now!