Podcast: Play in new window | Download | Embed
Subscribe: Apple Podcasts | RSS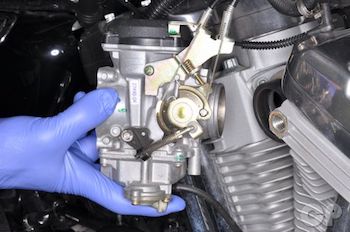 Podcast-In this episode we talk about Rick (Big Daddy) Kane's large-scale project he just completed on his 2001 Harley-Davidson Road King, named  "Chola".  This bike has a ton of rich history and you really need to go back and listen to Podcast Episode #106, where Rick breaks it all down for you.  That will help you have a more true appreciation for this current project.

Rick decided to do a full electronic fuel injection (EFI) to carburetor conversion on Chola. Yah, this is not something you hear about being done very often, but it can be and is done on occasion. Of course, there are reasons to do something as drastic as this. In Rick's case, he was having troubles with the older Magneti Marelli style EFI system Harley used from 1995-2001. These systems did not utilize O2 sensors in the exhaust for tuning. TheseMagneti Marelli systems are well known for causing problems and annoyances.
In 2002, Harley-Davidson switched and started using the Delphi EFI systems on their motorcycles, which are more reliable and utilize exhaust O2 sensors for proper tuning.
This Magneti Marelli system left us stranded late one night in the middle of nowhere in the pitch black. I followed and Rick was barely able to limp the bike back to town.  Listen in as we tell the story.
These types of EFI problems require expensive computers to properly diagnose.  So, Rick took it to a friend of ours at a dealership to diagnose it with their computers. Things were never just right after several times to the shop to diagnose and Rick spent about $800. He actually had to push his Road King home about 1 1/2 miles!  It ended up being recurring annoying problems with the cam timing sensor and neutral throttle sensor.
Rick decided he'd had enough with the Magneti Marelli EFI system and wanted to get rid of it all together. He could have converted to the new Delphi EFI system but has always loved carburetors. Rick made the decision to do a full conversion from Magneti Marelli EFI to a carburetor system instead. Once and for all, he wanted no more problems with his 2001 Harley-Davidson Road King.

Listen in as Rick describes the exact process he went through and the exact parts he used to make the carb conversion. He lays it all out for you in this episode and tells of what carburetor he went with. Rick is a wealth of knowledge on this subject and I learned a ton from him.  He has some great resources for you if you might be contemplating this project.
Sponsor-Patch Addict
Use Coupon Code:

LAB15

Get

15% Off

Free Shipping on orders over $25
Sponsor-Ciro 3D
Innovative products for Harley-Davidson
Affordable chrome, lighting, and comfort products
Ciro 3D has a passion for design and innovation
New Patrons:
Kelly Minton of Masaryktown, Florida
Jason Richardson of Arlington, VIRGINIA
Pat Dicorato of La Habra, CA
Obie Donaldson of Jacksonville, FL
Gregory Pennington
Ross Tomes of Burbank, IL


Join the Free Email Club!
If you appreciate this free information make sure to join the thousands of law abiding bikers that have already joined the free Email Club! You will be notified of new useful motorcycle content and techniques as we put them out. Join the Community now!