Podcast: Play in new window | Download | Embed
Subscribe: Apple Podcasts | RSS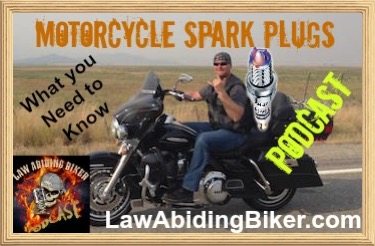 PODCAST-That's right, we went Live streaming & Live chat for this show and it was a success! The Live portion is just another way for listeners to consume our content and will change nothing with the on demand Podcasts that you have become accustomed to. We will be recording our episodes Live for the foreseeable future, so tune in & check the experience out. You will get to hear what goes on behind the scenes and chat Live!
Want to call us and get your topic on the show or leave us feedback?
Listener Line: (509) 731-3548
Computer Voicemail: https://www.lawabidingbiker.com/voicemail
General Contact: https://www.lawabidingbiker.com/contact
Motorcycle Spark Plugs/Main Topic:
I noticed last night previous owner had put champion plugs in it. Several people, couple forums, & dealer suggested going back to factory Harley plugs because they are built with some anti knock feature or something like that. What's your opinion on my plug situation. Wife & I are doing a four state road trip and I'm trying to avoid problems.
There is a lot of information out on the internet about motorcycle spark plugs and much of it is confusing or contradicting. Oscar is in the studio on this episode and really [Read more…]