Podcast: Play in new window | Download | Embed
Subscribe: Apple Podcasts | RSS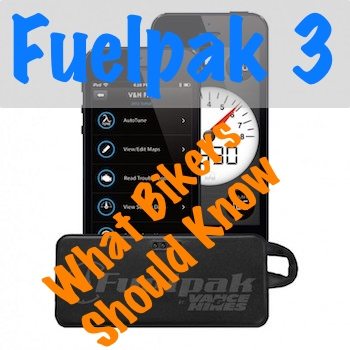 Podcast-This episode is dedicated to breaking down the Vance & Hines Fuelpak 3 motorcycle electronic fuel injection (EFI) tuner. We have tested this motorcycle EFI tuner on multiple 2014 and newer Harley Davidson motorcycles for many months now. Oscar is on hand in this episode to dive into the technical aspects. We break it down into an easy to understand guide for bikers/motorcyclists out there.
This is a follow-up to podcast episode #81 where we talked about the Dynojet Power Vision vs. the Fuelpak 3. Admittedly, on that episode we stated that we were further testing the Fuelpak 3. Wow, we have learned much more about this EFI tuner since then and we wanted to share it all with you.
As we have said many times in the past, if you change the pipes, mufflers, or air intake on your Harley Davidson like so many do, then you will need to tune your electronic fuel injection for optimum performance. And we think the Fuelpak 3 is a very good option for bikers to do so.
This little compact EFI tuner packs a big punch and no install of larger O2 sensors is needed! It tunes off the stock 12mm O2 sensors that come stock on Harley Davidson's.  There are no extra wires running up your bars to a head unit, as everything runs via bluetooth to an app on your smartphone!
Don't waste your money having a dealership tune your Harley's EFI.  All they will do is charge you $250-$300 for 5 minutes time and give your bike a one time basic EFI map. And if you change any little thing in the future you will be back paying another $250! With aftermarket tuners such as the FP3 you can change anything you want and just remap anytime you want.
The FP3 is super easy to install with our Free Fuelpak 3 Install & Auto Tuning Video. We show you how to use & set up the free very intuitive V&H FP3 smartphone app. Additionally, we show you how to flash the engine control module (ECM) on your Harley directly from the app and run auto tune sessions to program your EFI further if you want. You will be up and running on no time at all. We made this video for every day bikers in an easy to understand format.
Understand that the Fuelpak 3 is as capable as any other motorcycle EFI tuners on the market at this tim in our opinion. And we have done much testing and real world use of many EFI tuners. If you are an advanced user and want to manually enter values into the FP3 then you can. Oscar can get really technical with the FP3.  I on the other hand use it for a simple EFI map download and auto tune sessions.  And I love viewing real-time engine data within the smartphone app.
I mount my my smartphone on my handlebars using a Biker Gripper, the sleekest, strongest, sexiest and best motorcycle cell phone mount on the market.
This is just a snippet of what we actually talk about in this episode, so take a listen if you want to know everything there is to know about the Vance & Hines Fuelpak 3. It gets our full recommendation after much use and testing!
Other EFI Tuner Resources:
Join the Free Email Club!
If you appreciate this free information make sure to join the thousands of law abiding bikers that have already joined the free Email Club! You will be notified of new useful motorcycle content and techniques as we put them out. Join the Community now!