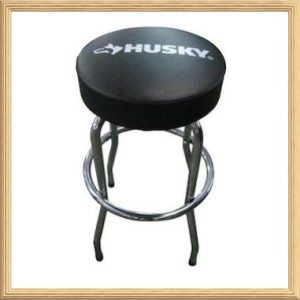 A Video by Bikers for Bikers:
VIDEO/TUTORIAL/REVIEW: We are always looking for new things to spruce up the Law Abiding Biker® Podcast & Media garage/shop where we work on and film many of our free tutorial videos and our popular for purchase videos. We have wanted bar type swivel stools for some time to sit on in the shop. And just to hang out in the podcast/media studio. We have never broke down & made the purchase, because they can be so expensive depending on which logo is printed on them.
Pricing a Harley-Davidson Swivel Bar Stool on Amazon is $79.99. Love the HD stool, but it looks like so many other swivel stools and I'm sure it is basically the same. We did not want to pay for the HD logo, but just to get started with swivel shop stools. We have enough other expenses to deal with. I put this off for several years believe it or not.
I was walking through the Home Depot and stumbled upon some Husky Brand Bar Swivel Stools model #1656 for $18 each! And come to find out, this is the normal price. They looked exactly like the Harley Brand shop stools. I mean really, how much is there to a swivel bar stool?
So, I finally broke down and bought two of them for the shop & studio. They do require some assembly and of course we filmed it and made a tutorial video of you. In the video we also review the stools as I do in this article.

Each stool will take about 15 minutes to put together after un-packaging and assembly. Only a philips screw driver and a [Read more…]