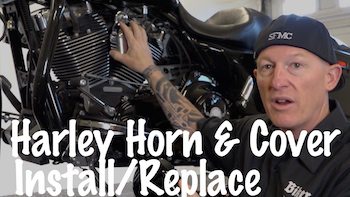 Video-In this free DIY video we show you how to remove and install a horn & cover on a Harley Davidson motorcycle. We did this because we were replacing the stock chrome horn cover with a black one. The Harley horn cover kit we purchased has some of the parts, but you'll need to salvage a few others from your stock horn cover to complete this project.
Save yourself a ton of money by not having to take your Harley to the dealership to have these types of projects done. You can do this right in your very own shop or garage and right on the kickstand. Plus, have the absolute satisfaction of wrenching on your own Harley!


If you appreciate this free video and information then please purchase any products using our below affiliate links.
(no additional cost to you, but it helps support us).
Click on Picture to see the exact product we used! (black or chrome)
Join the Free Email Club!
If you appreciate this free information make sure to join the thousands of law abiding bikers that have already joined the free Email Club! You will be notified of new useful motorcycle content and techniques as we put them out. Join the Community now!