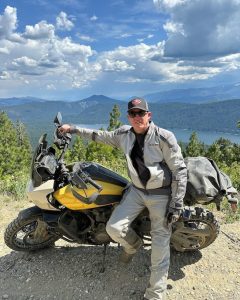 I recently got to test ride and review the Harley-Davidson Pan America for an entire day at the Touratech Rally in Plain, WA. Additionally, I got to speak with Terry Rumpel, Engineering Manager for Harley-Davidson, who was involved with the Pan America since its inception. see video below
The Pan America is a larger adventure full-size "touring" adventure motorcycle, weighing in at around 560 lbs in running order, and it's a great bike in that category for sure. If you want to go ride mostly aggressive dirt and single track, then please go get a smaller mostly off-road adventure motorcycle that is a better fit for that sort of riding. The Harley Pan America is a great bike for riding pavement, forest service roads, fire roads, some jeep trails, and open off-road areas in general.
After the release of the Harley Pan-America, it quickly became the #1 selling adventure motorcycle in North America and there are certainly many reasons for that. See my original article here.
Now, I originally test-rode and reviewed the Pan America shortly after its release in 2021 at the Sturgis Rally, where I got to ride it around the beautiful Black Hills, so make sure you check that video out for a full review, details, and specs.
So, it had been two years since I last rode the Pan America, and I was blessed with the opportunity to once ag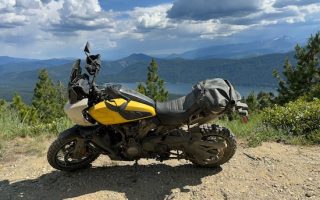 ain ride it around the beautiful mountains around Plain, WA. The Pan America was just as impressive this time as it was when I first rode it in 2021.
Based on the market, my prediction is that Harley-Davidson is working on and will release a smaller mid-weight 975cc version of the Pan America. After all, Harley already has the 975cc Revolution Max motor in production on the Sportster S and Nightster. Heck, why not enter the middleweight adventure motorcycle market since they already smashed it in the full-size category?
A middle-weight Pan America is awaited by many riders like me, who love the full-size Pan America. However, a smaller, lighter, Pan America would better suit me for the terrain and type of adventure riding I do. I like to ride more technical terrain and even some single track. And, if the smaller version is anything like its big brother, it would crush this category of the adventure motorcycle market too!
Join the Free Email Club!
If you appreciate this free information make sure to join the thousands of law abiding bikers that have already joined the free Email Club! You will be notified of new useful motorcycle content and techniques as we put them out. Join the Community now!